We can help with everything related to your presentation
Fast, secure result-oriented service with fixed prices.
Why choose us for your design needs
Slidepeak offers everything you need to build powerful pitch decks for every audience and industry.

High level of satisfaction
Before getting down to work, we carefully study instructions and, if necessary, clarify points that are unclear. Upon request, we can offer several design options for you to choose from.

Free revisions
To make sure all of your expectations are met quickly and efficiently, we share drafts every step of the way and offer free revisions to every completed project.

On-time delivery
We know how important deadlines are. That's why we lay out realistic timelines to ensure nothing is overlooked and keep clients informed about what's going on with their projects.

Confidentiality & NDA
Our goal is to build trust with every client. That's why we keep all communications private, have confidentiality agreements with employees and can sign a non-disclosure agreement with you.
Business
Healthcare
Technology
Real Estate
Banking & Finance
Education
Investment
Entertainment
Travel
Fashion
E-Commerce
Oil & Gas
Our mission extends far beyond designing custom slides
We aim to help your target audience – whether corporates, business owners, CEOs, startups, marketers, teachers, or scientists – understand your message clearly and act on it quickly. Our skilled designers and content writers work with every client to develop a visually appealing and textually balanced presentation tailored to a specific event.
Contact us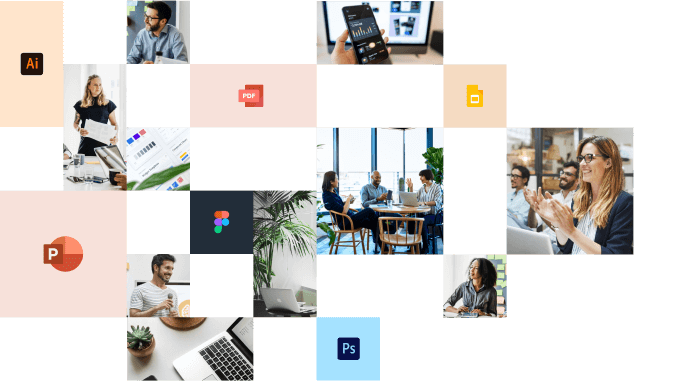 Customer reviews
More than 100 top-tier companies, NGOs, governmental institutions, and universities trust us to present their ideas. Here's what they say.


"As a startup, we often need to present our vision, and Slidepeak helped us out in a big way. Working with this incredible team, we feel comfortable sharing our decks with key partners and often get great feedback."
Nick Kalinich
Business Development Manager, Calmerry


"I am very satisfied with Slidepeak's service. Thanks to them, our company could create high-quality film introduction file. Will keep using Slidepeak for important files 😊"
Yukyung Kim
Manager, HL Klemove

"I was a bit skeptical that some elements of our specification were too vague, but I was pleasantly surprised that everything we asked for was designed to perfection. No change requests needed! Exactly what we needed."
Tomas McKinless
Founder & Head of Partnerships, Abralytics


"Slidepeak provided us with the exact pitch deck and elevator pitch that we were in need of. They were very patient with us in order to design our requirements. I would definitely come back to them."
Naser Arifi
Founder, Blue Hat Investments GmbH
Get a professional consultation today
Ensuring peace of mind with quality pitch deck services.