Professional pitch deck - your shortcut to success
Reach your goals with the help of a pro team that will consult, research, write content, and create a wow presentation for your needs.
Raise money
We help start-ups create compelling, persuasive, and tangible pitch deck slides that drive investors and raise funding in round A.
Convert new clients
Get an effective PowerPoint pitch deck that highlights your value proposition, connects clients with the problem, and aligns with their needs.
Showcase your company
To make your company stand out, we follow the advice of Y-Combinator and create easy-to-understand, clear, and simple pitch deck slides.





Our services
Slidepeak offers pitch deck design and redesigns services across various topics, niches, and audiences. Our most popular pitch deck types include but are not limited to:
Impress your audience with a short but memorable pitch explaining what makes your product or idea so unique.
Make a prospective angel, investor, or venture-capital fund believe in your start-up with a convincing slide deck presentation.
Get an edge over your competitors with a winning pitch focused on the value you're going to create for investors.
With our pitch deck design agency, you will get everything you need to create a compelling story about your idea.
Introduce the professionals working with you. Perfect choice for reinforcing the company's corporate image.
Get an editable pitch deck design suitable for both sales meetings and business news announcements.
Only experienced pitch deck designers and content experts
We take pride in our service quality & satisfaction​ ratings.
Non-Disclosure Agreement with every client
We value your privacy & treat all info in strict confidence.
Request more info
Design that makes a difference
Our pitch deck agency has helped more than 120 businesses succeed.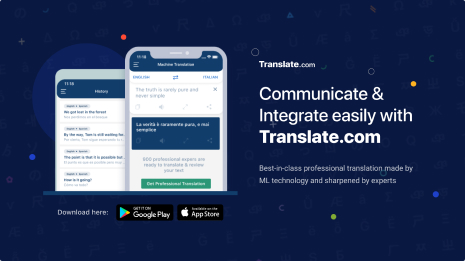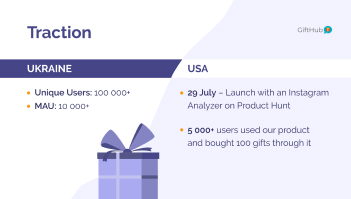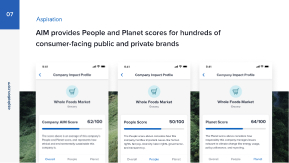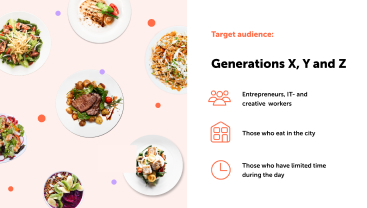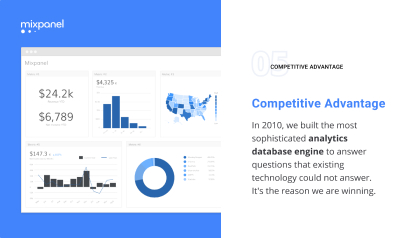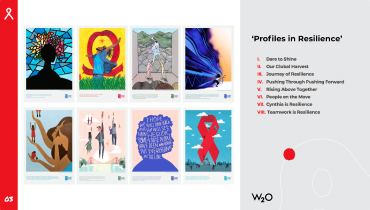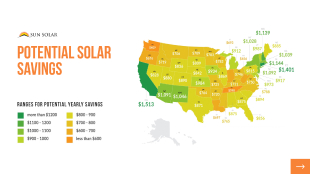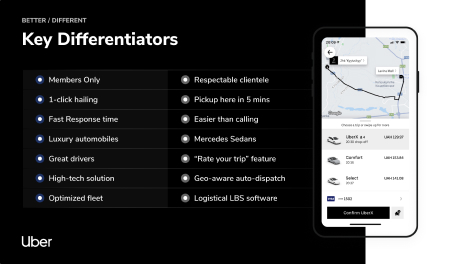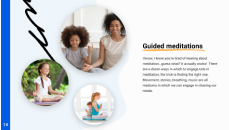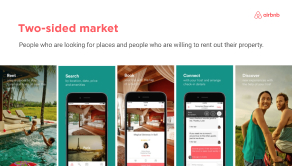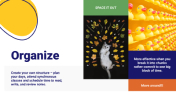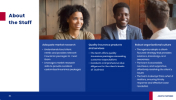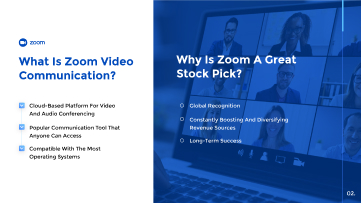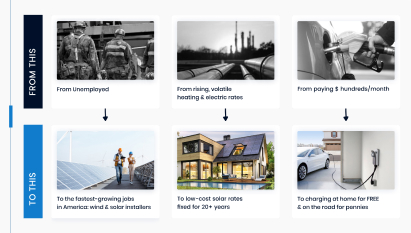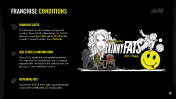 Explore our most recent examples of pitch deck slides and get inspired

Mixpanel solutions
12 slides

Zoom stock presentation
11 slides

Timeat food pre-ordering
16 slides

Uber app concept
11 slides
Get a professional consultation today
Need help with your presentation? Already have a pitch deck design that needs to be redesigned or simply wondering about pitch deck design service cost? Our custom pitch deck creation team is here 24/7 to answer your questions, give you valuable advice, and comfort you. Just fill out the form, and we will be in touch shortly.
Immediate response

Free expert consultation

Strict data protection
Pitch deck services tailored to your needs, audience, and niche
Delivered by qualified professionals.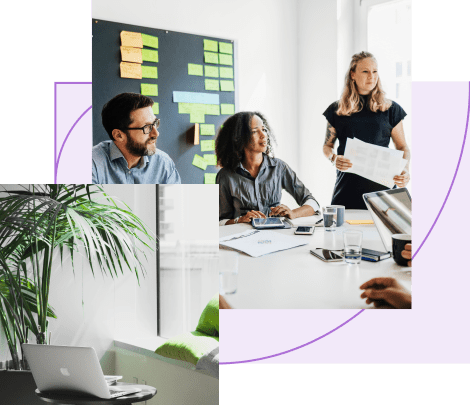 Research
Many start-up founders make the common mistake of ignoring research. Many feel that research is too costly or that they already know their target markets and audience. However, working with professional researchers can provide you with an unbiased review of the target market and its actual state. This will not only help avoid incorrect assumptions but will supply you with important insights. When it's time for pitching, this will make you sound way more professional.
So if you need help researching, contact our team with extensive markenting research expertise. We have the tools to conduct the research needed to fully understand your audience and market and handcraft a powerful pitch so you can get funding from investors. We can also review your research findings, presentation structure, and content and provide feedback on what to correct or improve based on your business-model.

Content
Much like design, there's an art to compelling pitch content. Succinctly explaining your ideas while trying to convince stockholders to invest in your start-up in the seed-round using the same words is incredibly challenging. But not for our experienced pitch deck writers. Every pitch deck writer on our team is skilled in both improving existing pitch deck content and creating content from scratch. We cover a wide range of topics — from deep tech to healthcare.
Hiring our pitch deck writer, be sure that your deck will contain only relevant information without unnecessary characters, your unique story backed with evidence and data, the right message that engages your audience's emotional aspects, and the tone of voice that's right for your audience (based on your requirements or our research). Whether you need deck content written from scratch or just a small upgrade, our team will deliver the right solution and help you keep the audience's attention up until the final slide.

Design
You want investors to fall in love with your idea immediately and become the next unicorn start-up or join the tech stars of tomorrow. So your pitch deck design should be enticing, bring your target audience into your story, and give you an edge over competitors.
That's exactly what our pitch deck designers can help you with. From a clean, consistent design with simple visuals to a creative pitch deck with custom illustrations and unique content arrangements — our experts can create an original, pixel-perfect PPT pitch deck for you or refresh your existing deck following your requirements. In case additional images are needed, we can purchase them for you.
At SlidePeak, all pitch decks are created in PowerPoint and delivered in the editable format so you can introduce changes whenever you need.
Customer reviews
Don't take our word for it — see what clients have to say about our pitch deck service.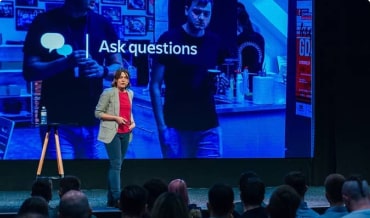 Real professionals!
"As a startup, we often need to present our vision, and Slidepeak helped us out in a big way. They were able to package the most complex ideas into impressive infographics and make simple points visually engaging. Working with this incredible team, we feel comfortable sharing our decks with key partners and often get great feedback."
Nick Kalinich
Business Development Manager, Calmerry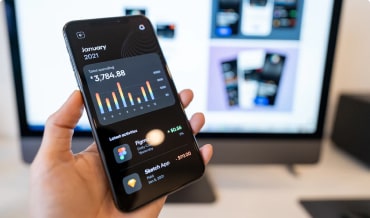 Fast and quality pitch deck help!
"Pitch decks are an integral part of our app development package. Therefore, we needed a service capable of delivering a quality deck in a short period. Fortunately, we found SlidePeak. They helped us structure our decks in an appealing and easy-to-understand way and impressed us with great designs."
Paul Tantsiura
CEO, The App Solutions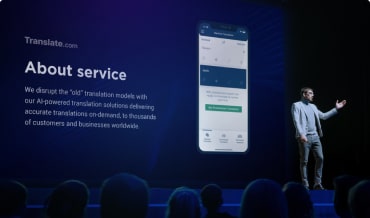 A perfect choice!
"As we use pitch decks in communicating with customers, we require a partner that can account for all the language and cultural differences when helping us with pitch deck design. Slidepeak had been a perfect choice for such a task so far. They understood our brand vision and went above and beyond incorporating it into slides."
Anton Kashshay
COO, Translate.com
Want to find out the pitch deck design cost? Or need a custom plan?
Contact us
Our guarantees
Ensuring peace of mind with quality pitch deck services.

Professional research
To best meet your needs, we comprehensively study your target market, audience, and competitors before we start working on pitch deck.

Custom-made slides
Our certified design team can create an original, professional-looking deck for your start-up, focusing on your unique needs and end purpose.

Strict confidentiality
Our priority is to build trust with every client. That's why we ensure confidentiality throughout every stage of our relationship and work under NDA.

Check out our guide
We've compiled our expertise into an ultimate guideline on pitch deck design. Now we want to share it with you!
We don`t spam. You will only receive useful offers and necessary information.
Frequently asked questions
How fast can you provide a first draft?
Usually, it takes 72 hours to develop a first draft version of a pitch deck design. In addition, we can offer several versions of the first slides so you can choose the one that best meets your style needs.
Express turnaround options are also available. Please contact us for details.
Will I be able to edit the final deck myself?
Yes. The final version of the presentation is delivered in the completely editable PPT format, and you will be able to edit it at any time.
Will my pitch deck be kept confidential?
Yes, definitely. We can sign an NDA if you need to share sensitive information as part of the project.
How can I give feedback on the project?
You can provide feedback by email, phone, message board in your customer area, or any other way you find most convenient.
Сan you assist with research and content creation?
Yes. Except for design experts, we have professional copywriters on our team. They can do research, add content, edit it, shorten and bring it in the right order.
What's the average pitch deck design cost?
All prices are individual and depend on the number of slides, deadline, the complexity of the project, and the need to add content.
We can provide a quote as soon as we check your project requirements and offer several options for your consideration.
If I want you to change something, will I pay for revisions?
No. All revisions to pitch decks are completely free.
Why buy a custom pitch deck design from us?
At SlidePeak, our aim is to take your presentation design pressure away. We are committed to providing clients with high-quality, effective, and affordable pitch deck design options and believe in going the extra mile to ensure that each client is satisfied with our work.
We have the experience to deliver decks that get investors interested and raise funds. In addition to helping with professional pitch deck design, we also create presentations for webinars, sales plans, business meetings, seminars, and lots of other events.
If you'd like to establish a real connection with your audience and give a presentation that will make a lasting impression, don't hesitate to get in touch.
Extensive expertise
We work on every pitch deck project with the utmost care and cover all niches.
Personal approach
To create an engaging pitch deck presentation from scratch, we conduct in-depth research.
Trendy designs
Our creative solutions are based on recent research in design and perception.
On-time delivery
You can track the deck's progress and discuss it step-by-step with our creative team.
Financial guarantees
If the pitch deck design doesn't meet your requirements, you will get a refund.