Employee training and onboarding presentation: why and how
May 30, 2022
|
6 min read
The role of any training is to learn, inform, and develop. Learning refers to employees acquiring knowledge, skills, competencies, attitudes, and behaviors. However, training and development focus is not on employees learning for their own sake. Modern training PowerPoint presentations carry the idea of improving employee performance.
Let's go in order and learn how to create high-level PowerPoint training slides. Why do you need a training/onboarding presentation? What are the benefits of such slides? What points and design rules should be included?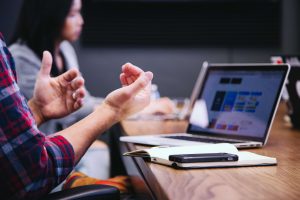 Training Presentation Importance and Methods
Presentation methods are the ones in which trainees perceive the information passively. This data usually contains problem-solving methods, work processes, and facts. Thus, these methods help captivate trainees in learning or onboarding processes, help with the transfer of training, and present information in an organized manner to a group of trainees.
PowerPoint training presentations help trainers to communicate verbally regarding what they want trainees to learn. Visual assistance delivers the information better and creates necessary images/concepts in employees' minds. PowerPoint lectures or training is one of the most affordable and time-saving ways to efficiently collect and present a significant share of the necessary information.
Audiovisual instruction means a creative approach and intends to collect slides with images and videos:
Slides

portray things not easily demonstrated, provide consistent instructions, and merely show the preparation level. With effective PowerPoint or Keynote presentation design, the trainer or HR gives the audience what they need, keeps track of time, and focuses on the key message.

Videos

facilitate communication, customer service, and interviewing skills. It demonstrates the expected performance level and illustrates how procedures should be followed. Videos are consistent, can be watched multiple times, and help to customize the training session narration.
A practical training manual saves time, and you no longer need to prepare new hires every time they're brought on board. Training and development teams should not design a new plan for each group of new employees but set a standard for all employees with one or several employee training PPTs.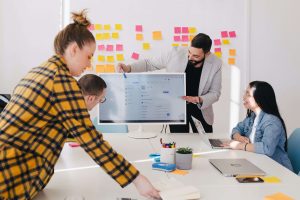 Benefits of Employee Onboarding Presentation
The new employee orientation presentation requires a new management philosophy. Companies promote values of growth, productivity, trust, and wellness. They are no more focused on pure profit and hierarchical leadership. So, what are the benefits of the new onboarding process presentation:
Reduces time to productivity.
Reduces stress.
Reduces turnover.
Develops job knowledge.
Establishes a strong relationship between a manager & a new team member.
Gives an opportunity to instill the company's culture into a starter.
People can choose in a world of great alternatives, and they choose not to work in a bad culture that doesn't share their values. They prefer cooperating with an organization with a mission they may believe in. And detailed employee onboarding ppt is a chance to depict company purpose, values & behaviors, teams & organizational structures, etc.
Things to Include in Employees Training and Development PPT
Design matters greatly in your employee training PowerPoint since it engages people and retains their attention until the last slide. A high-quality PowerPoint redesign or professional templates can help your team avoid a never-ending cycle of slow production. Thus, we'd like to share slides to include and design tips to follow.
Slides to Include
With any training or onboarding, there are 5 pages to build your presentation on:
Introduction: provide a brief company history overview and things to expect in the following slides.
Objectives: reinforce goals for those in your company, show what employees can strive for, and describe the company's mission and values.
Instructions: give them clues on where to begin at a new job to feel more confident and ensure they're never going with a task without instructions.
Summary: review the critical points of mentioned topics and allude to the next steps in future opportunities.
FAQ: answer questions you anticipate a new employee having and allow them to ask.
Those are the pages that you must have but feel free and creative to add more moments specific or essential for your company or training/onboarding processes.
Design Tips
If you want to excite people about their new opportunities, black text on a white background is not enough. Design matters and the more sources you review more interactive it becomes. Thus, we advise following the next recommendations:
Be consistent with your branding: let people see your identity and immediately recognize your company by the same colors and styles in other assets; it also develops trust.
Strive for harmony: balance of visuals means harmony of color with white space that follows a specific purpose and mood style.
Be creative with colors: colors evoke more feelings and associations, so don't hesitate to play with them to give viewers certain energy.
Unfold uniqueness: embrace what makes your company unique to stand out from other boring manuals and presentations (use icons and animations that depict the company's distinctive sides to catch attention and direct it).
Keep text easy to read and understand: bright graphics make your slides look special, but it shouldn't be an astronautical book, so use proper fonts and simplify the terms and processes as much as possible.
Use visual hierarchy rule: strategically place and edit specific design elements (arrows, bold, contrast, size, etc.) to help eyes go through them with ease while simultaneously emphasizing the importance of presented material.
If these tips look complicated to perform, we advise using professional templates or assistance from experienced design agencies. Regardless of which direction you go, it's always helpful to get an independent and expert view.
Afterwords
Managers or HR need to navigate how to onboard new employees to make them feel welcome, engaged, and productive. A new plan for each group of employees requires extra time every time fresh people come. The training PowerPoint presentation can substitute this draining and repetitive action. The well-designed manual sets a standard for all new team members and ensures everyone goes through the same checkpoints.
If you need help with manual or presentation design, feel free to contact us and get a free consultation.