Slidepeak
/
Blog
/
Annual report design templates and tips: how to tell a great story with financial data in 2023
Annual report design templates and tips: how to tell a great story with financial data in 2023
January 5, 2023
|
7 min read
A memorable annual report needs a lot of time and effort. Do you recall the school report card and its purpose? It served as a reflection. It showed our academic performance during the year. Similarly, a company's or organization's performance report has to communicate this. It has to stand out in a clear, easy-to-understand annual report presentation of the company's values, key business highlights, financial performance, revenue growth goals, and future developments.
Of course, we know how difficult and daunting listing, summarizing, and recording business operations and financial positions can be. That's why we've created an ultimate guide with tips for writing an annual report. So, let's dive in…
How to write an annual report
The secret to an excellent annual report is simple: just turn the information you include in the presentation into an engaging story utilizing all the available storytelling techniques. From writing content to designing, the tips on how to create an annual report you'll find in this article will help you increase visibility and bring your annual report game to the next level.
Important steps to take:
Step 1: Decide on the key message
Highlighting your achievements and their impact in an annual report is a great idea. The target audience is interested in learning what you have accomplished so far and why you did it.
In fact, businesses can build credibility and establish lasting relationships with shareholders, investors, and customers by tying their activities and achievements to their mission statements.
Step 2: Structure the report
Choosing what to include and what to omit while creating a yearly report is one of the most challenging aspects of the process. It's critical to plan the annual report structure and content.
The annual report should include a storyline that establishes the overall framework of the document and organizes the content around a narrative thread, in addition to the fundamental components like the introduction, chairperson's letter, business profile, and financial statement. This makes it simpler to spot and remove content that does not advance the plot.
Write with clarity, precision, and unambiguity. Keep your tone impartial and professional throughout the entire document.
The annual report's content must be transparent and truthful, so don't exaggerate achievements or hide your losses.
Once the writing is done, proofread it for grammar, tone, and spelling.
Step 3: Use a captivating design
A business can utilize a well-designed report as a marketing tool if it is exciting and professional. That's why readers should be able to scan the document to find the information they require quickly.
Here are some guidelines for an effective annual report design:
Utilize headers and subheadings.
Allow room for images, infographics, and other visuals.
Keep the text brief and simple.
Use a color palette and fonts that are consistent with your brand.
Emphasize important areas using colored text bubbles, quotations, and captions.
Pro tip: Prepare in advance
Creating an annual report is a lengthy process requiring an orderly system for logging and tracking information, media clippings, images, and corporate accomplishments. Many businesses craft their annual reports in-house, while others prefer to employ a design agency to ensure their report is structured and designed in a professional way.
What's included in an annual report?
An annual report is a financial document comprised of four sections covering the critical company's aspects and appendages. The sections are as follows:
1. Management's message
Management has a fantastic opportunity to interact with the company's stakeholders through an annual report. Almost all yearly reports begin with a message from the company's chairman, primary owner, or CEO, which provides an overview of the company's challenges, successes, and insights into the growth during the previous year.
Next comes the table of contents.
2. Company profile
The company's vision and mission statement, information on the directors, officers, registered and corporate offices, investor profiles, the products or services that the company offers, competitor profiles, and risk factors for the company are all included here.
This section can be decorated with team photos and staff testimonials.
3. Management discussion and analysis
The section gives a detailed summary of the company's three-year performance and includes information about the following:
Revenue growth
Income
Sales
Expenses
Changes from past reports
Profit margins
Cash flow statement
New product launches, shifts in sales, and marketing can also be covered in this section. The other topics to include are new hires, company acquisitions, and other beneficial information.
4. Financial statements
The financial statements are the most crucial section of the annual report because they show how well the business has performed in the past, its capability to pay off debts, and its future growth plans. The following statements are included:
Balance sheet
Current stock prices
Income statement
Statement to shareholders
Cash flow statement
Comparison as per financial trends (current vs. previous years)
Grants distributed
The income statement lists the company's earnings, expenses, and total sales. The balance sheet provides a quick overview of the company's assets and liabilities. The cash flow statement contains data on cash inflows and outflows.
Additional notes are given regarding each financial component after the financial data. The balance sheet notes include information on capitalized leases and debt insurance. Notes to the cash flow statement usually cover tax payments.
In addition to the financial statements, data about the dividends paid can also be covered in this section.
Other elements to include are as follows:
Account notes with accounting policy details
Auditor's comments on the company's financials
Forecasted income and expense disclaimers
Infographics, photos, and success stories
Now that you know how to write an annual report and its main components, let's move on to tips on designing an annual report.
Corporate annual report design best practices
1. Create a visual hierarchy
As soon as you get through the content writing phase, you need to consider how you will present the content. Even though chunks of text are unavoidable, given the nature of an annual report, you can separate them with the layout to improve comprehension.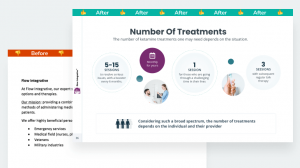 Pro tip: Break up content with white spaces
While the annual report's design direction prioritizes a minimalist approach, you can employ the same style on specific pages where written content can be condensed and fit inside your visual hierarchy.
2. Choose the right typography
Next, you need to select the appropriate typography based on the report's context. Despite how insignificant it may seem, the font can have an impact on the readability, design, and even the readers' mood.
Here's an example: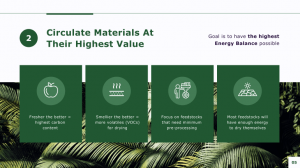 Pro tip: Look at the design of your company annual report PowerPoint presentation. Does it evoke positive emotions? If not, it's time to change the font.
3. Give section breaks
Before each part, give an overview with critical points and stats (using visuals, of course). Not everyone has the time to go through a lengthy report, and most people only skim through them.
By providing a summary, you make sure that people remember your message.
Pro tip: Remember, less is more. Try to condense data to the essentials, not overcrowd slides, as they will look busy and be difficult to read.
4. Add status marks to lists
The use of a consistent icon set can help express the achievement of goals in the most appealing way.
5. Pay special attention to visuals
The visuals you use to communicate your story and present your financial data are just as important as the written words. Similarly to fonts, your choice of infographics, images, and colors will impact how the reader interprets the content.
Some good examples to follow: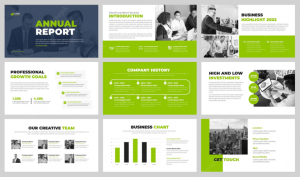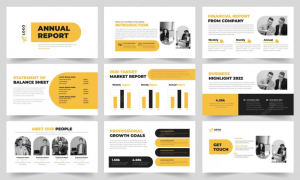 Pro tip: Make sure the design of your annual report ppt is in line with your brand and reflects your visual identity.
6. Replace table content with text in shapes
A PowerPoint shape can help make tables look better and easier to edit as you create annual report.
Here's an example: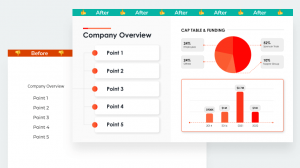 7. Be creative
Experiment with layout, include delightful photos or tidbits, and don't be shy to move past traditional design boundaries to make your annual report truly memorable.
Some awesome examples to follow:
Wrapping up
While that's quite a lot of information to keep in mind, these content writing and annual report design tips can serve as a reference for you anytime you run into problems with your report's creation, so don't hesitate to bookmark this page.
And if you need help bringing your story to life, our creative team will gladly handle it for you. Simply drop us a message or call +1 (347) 464 59 57.