PM diary part 1: creating a budget presentation in PowerPoint
November 8, 2022
|
3 min read
Investors, lenders, and all company's stakeholders are mostly interested in the revenue they get, so they tend to rely on exact numbers prior to real investments and other contributions. They have many different opportunities to invest in, and they choose the one that is more likely to win. Thus, budget presentation is a correct and effective way to provide a compelling, professional, and differentiated description of the capital they could get after several investments.
If you are wondering how to present budget in PowerPoint, here is the guide for you.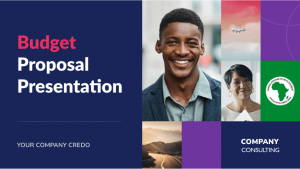 How to make a budget for a project in a PowerPoint presentation
A budget presentation PowerPoint has to be clearly targeted toward equity investors and lenders with a lot of appropriate and suitable information. The budget plan presentation should be clear and not wordy to catch a person's attention. They are looking for a high-quality project for their portfolio, so you should show you value their time and can fit all necessary info in a couple of sentences, diagrams, graphs, or tables.
Remember, you are the one looking for investors, so budget presentation PowerPoint slides need to be credible and concise. You can design them on your own using budget presentation PowerPoint templates or opt for the services of a professional presentation agency to save time and sleep.
One of the main mistakes happens on the statistics and strategy slides of the budget PowerPoint presentation since few of them are made easy to follow. Commonly, they are bland, boring, and not able to keep the audience's attention. It would be frustrating to come up with such a budget planning presentation people worked over for a year.
Numbers. Numbers. Numbers.
But nothing really stands out.
Here's how to do a good budget presentation:
Research for previous budget planning PowerPoint presentations to have a confident database to rely on.
Have a 10-minute conversation with the current team, ask critical questions, try to pull out a story, and incorporate that story in the investment presentation.
Create a branded company look that resonates with investors. If you are new to presentation design, a pitch deck design service can help develop truly effective budget presentation slides.
No matter what industry you are in, make a 'Highlights' slide that answers all why questions, demonstrates value drivers (+ threats to them), and calls to action.
Create 3 or 4 different options to invest for every investor to find the most affordable asset and proceed to cooperate with you.
Make your credibility pop out of the proposed budget PowerPoint presentation and leave no questions to potential investors.
Whether you try to be compelling, differentiate, sell an asset, or raise your capital – concentrate on key information that matters and do not go deep into details on every budget PowerPoint slide. You would not prefer yawning, attention loss, or refusals from stakeholders, would you?
Some potential budget presentation PowerPoint slides include: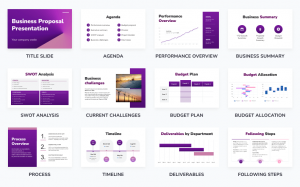 Title.
Agenda.
Performance overview.
Business summary.
SWOT analysis.
Current challenges.
Budget plan.
Budget allocation.
Process.
Timeline.
Deliverables.
Following steps.
To make the most out of each PowerPoint budget slide from the list, double-check every number for accuracy, use illustrative diagrams and charts, and keep the entire budget presentation ppt brief. Ten slides are enough to outline the problem, the proposed budget, and the exact ways the invested capital will provide a solution.
Should you still feel confused about how to design a budget presentation in PowerPoint, you can contact us as we're always eager to help clients to bring out the best versions of themselves.