PM diary part 2: creating an effective kick off meeting presentation
December 5, 2022
|
7 min read
Even though you invested a lot of time and effort into starting your project, it sometimes feels like it's already off track. This is mainly because each member of the project team and stakeholder contributes specific knowledge, expectations, and objectives.
No matter how hard you try to correct the course, the remainder of the project will be an uphill battle if you don't give them a chance to be on the same page before they begin working.
That's when a project kick off meeting presentation comes into play. "What is kick off presentation?" you might ask. This type of presentation is an effective way to get the team on the same page before the work actually starts. You'll discuss specifics, highlight the project's goals, purposes, requirements, timing, boundaries, risks, and constraints, and give a quick overview of the next steps in the kick off meeting presentation ppt. It also helps introduce stakeholders to the team and build more efficient cooperation, no matter where your project plan takes you.
A well-crafted kick off presentation can help the stakeholders form a positive first impression of your project. Assume your business case has been approved, you have funding, a team has been assembled, and the stakeholders are anxious for you to get going. What do you do next? Of course, you kick that project off!
Here you have two choices: either search for kick off meeting presentation templates and struggle with slide design or outsource the task to professional custom presentation agencies and receive a polished kick off presentation in a matter of hours.
Whatever you choose, we recommend holding two kick off meetings: internal team and external stakeholder meetings.
Internal team kick off meeting presentation
Internal team or project management kick off meeting presentation is more technical in nature, contains all project details, and is designed for sharing with team members. It's super important because it helps create motivation within the team and gives people the opportunity to understand their role in the project and have their questions answered.
External stakeholder kick off meeting presentation
External stakeholder kick off meeting presentation is introductory at its core. It's used to get the team, key stakeholders, and management from both client/sponsor and contractor together to set an agenda, restate the purpose of the project plan, and show the team's talent and expertise. Usually, it lasts up to two hours and engages from start to finish. It's more like an audit kick off meeting presentation where you rely on objectives, define everyone's goals, coordinate financial statements, and determine the general timeline.
Every kick off meeting has more or less the same agenda. Here's a good template:
Introduction
Project goals review and discussion
The project scope review
Project risks discussion
Communication plan and preferences review
Process and plan overview
Next steps discussion
Open Q&A
So how to start kick off meeting presentation?
Creating a stunning kick off presentation takes a lot of time and effort, but with our design services, it's no more an issue!
We can help you craft effective slides for every area of project planning and effectively communicate the critical information about your project, so you get off the ground quickly and efficiently.
Here are some tips on what to cover in each section of your kick off presentation:
'Contents' slide
A 'Contents' slide aids in organizing and presenting the entire spectrum of thought in the project kick off meeting presentation ppt. This slide is intended to give a quick rundown of the topics that will be covered during the meeting.
This slide contains points for the presentation's agenda, context, methodology, timetable, and many other elements.
It's a fantastic way to inform the audience about what they can expect from your presentation before you get into the details.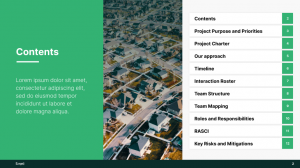 'Project purpose and priorities' slide
After you have finished outlining the project's background, the next step is to define its purpose and priorities. This slide usually consists of four columns illustrating the following concepts: purpose, scope, assumptions, and priorities.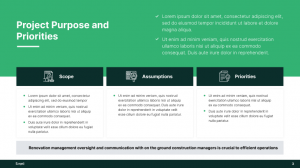 'Project charter' slide
The 'Project charter' slide of the kick off meeting presentation is used to get everyone on the same page with all the essential project details they should be aware of. Here you have to specify what needs to be done and who is accountable for each goal.
The main objective of this slide is to provide a clear description of the expected activity to all sponsors/stakeholders. We recommend you divide it into mini sections:
Context or project outline
Project objectives
Summary of objectives
Project team
Scope
Key activities and milestones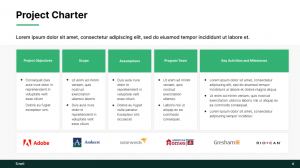 'Our approach' slide
This slide of the kick off meeting ppt serves as an explanation of the critical phases of your project and should include subsections like 'Activity snapshot,' 'Deliverables,' and 'Success factors.'
It's great for giving your team members a brief rundown of the project's phases and specifics.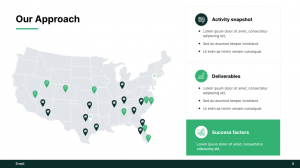 'Timeline' slide
The project's deliverables are shown visually on the timeline slide. It provides a brief yet complete visual representation of the project from start to finish.
In this single slide of the project kick off presentation, you can communicate the following ideas:
Beginning and completion dates for the project
What activities are part of the project?
Task assignees
When a task starts or ends
The order in which tasks should be fulfilled
The duration of a task
Deadlines and task progress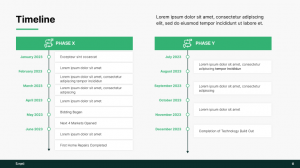 'Interaction roaster' slide
The 'Interaction roaster' slide's primary goal is to eliminate communication gaps among the team and proactively schedule all necessary meetings and touchpoints. This makes it easier to set expectations and gives a sense of confidence to stakeholders.
Additionally, you may use this slide to keep track of the various workshops, meetings, and conversations that must be scheduled at different stages of the project to assess its progress, examine past errors, and discuss upcoming operations and tasks with your team members.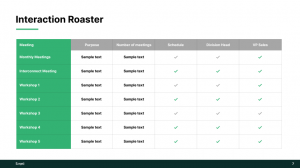 'Team structure' slide
A project with strong governance is one that runs smoothly. Reviewing the project's team structure must also take place during the kick off discussion. The various project teams' information, duties, and tasks should be included in this kick off meeting presentation slide.
Three levels of governance—a steering committee, task force, and project team—are the default option here. In addition, each team's members can be listed in three separate sections, along with their roles and priorities.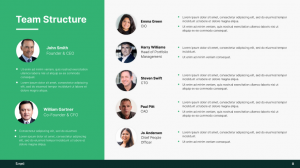 'Team mapping' slide
The single-point contacts and coordination points across company divisions are highlighted on this slide.
It's helpful in situations involving numerous teams in complex environments.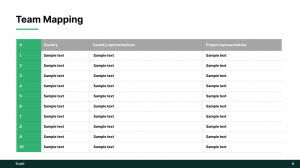 'Roles and responsibilities' slide
No matter how big or small the team is, it's always important to clearly define every member's function. Think of this slide as an action item where you answer the following questions:
Who is the main point of contact for the project?
What are the roles?
Who makes decisions?
Who is informed?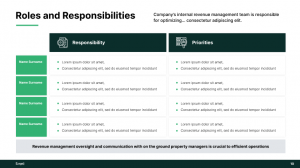 RASCI slide
The RASCI is a classification system for stakeholders that identifies their responsibilities and degree of responsibility within a project. RASCI is an acronym for:
Responsible
Accountable
Supportive
Consulted
Informed
The primary purpose of this slide of the project kick off meeting ppt is to assist the team members in identifying who is in charge of whatever project task. In addition, it shows the different roles of team members for each task.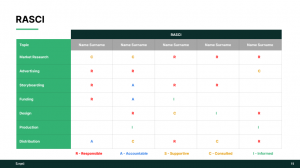 'Key risks and mitigations' slide
This slide outlines the project's risks and mitigations. It aims to prevent or lessen the effects of risk events—occurrences not in the project's best interest.
Assessing risk involves both creative and systematic approaches.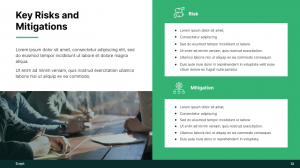 Wrapping up
The purpose of a project kick off presentation is to introduce the team, explain the project's history, understand what needs to be done and how to work effectively together. It's an opportunity for a project manager to take charge and align the client and the team. And it's solely their obligation to create impressive project kick off slides.
Using the above structure, you can create those impressive kick off slides in several hours, not days.
In case presentation design is not your strongest skill, we at SlidePeak have got you covered! Our hand-selected design team can craft an outstanding presentation for your next meeting, with a 100% satisfaction guarantee.
Contact us, and let's create something incredible together!