The importance of visual storytelling in presentations
December 27, 2021
|
3 min read
One of the most compelling and memorable ways to communicate the value of your business/product/service to anyone is through a medium called visual storytelling in PowerPoint. We'll not teach you how to write a script. We want to provide an understanding of how you can tell your personal story without expensive tools and media.
Nevertheless, you'll need attractive and compelling storytelling slides. You can create them by yourself or hire a professional agency for custom PowerPoint slides that captivate, motivate, or whatever -ate you need them to do.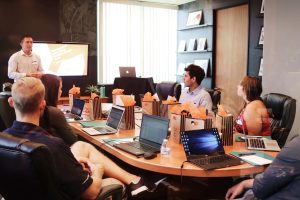 How to Tell a Story in a Presentation?
Follow a Typical Structure
Stories have three acts:
Exposition (the given circumstances, the time, the setting, the place);
Conflict;
Resolution.
An Entire Story Should Be Designed to Serve the End
The resolution needs to be worth waiting for. It should build the complete picture with both words and slides. The last slides should complement the previous ones, and no disharmony is acceptable.
If you have tons of exposition and a bright conflict, your exposition should be like "wow" and not like "meh".
Visuals Must Follow Your Speech and Vice Versa
Visuals are to create an emotional connection. If you want to develop wonder and suspense, the main storytelling technique for your presentation is to align your visuals with the story. Do not add inappropriate pictures or photos, creating chaos in the audience's mind. Help them to understand it and like it.
3 Image Hacks for Visual Storytelling Presentation
1. Watch out for Those Eyes
The eye gaze that looks directly at their audience has the power to capture the attention and hold on to it. But here, the problem arises. You would most likely add photos if you're presenting storytelling presentation slides about yourself or your company product/services.
Putting an image where the subject looks directly at your audience is a mistake ⎼ you'll risk their attention. Putting a person with the side gaze is correct ⎼ it will not distract the audience from looking at you and the message itself. Cool, isn't it?
2. Use Those Eyes to Persuade
This time, we will flip the previous advice and use those eyes to our advantage. Thus, if you need to persuade people, spark action, or make them buy a product, you should use those eyes to your advantage to make profitable storytelling in a business presentation. For example, you want to evoke empathy in your visual storytelling to sell services. Thus, put an image of real people who started your company and led it to success. It builds the relationship between the company and the audience.
3. Go Big!
Images don't always have to appear like islands on your custom Google slides with text boxes floating around them. If you access an HD image, blow it up and make it full screen. Your audience would love to have an over-the-top visual big-screen experience. However, remember to place the text over it appropriately: don't put words above image objects.
Use an image that bleeds off your slides and puts your audience into the story scene.
Main Takeaway
Visual storytelling is integral if you want to transmit something to a human being. We are all visual creatures who remember at best by images in our heads that, most importantly, evoke various emotions. Dull information with plenty of numbers and official statements will engage a few (none, if speaking frankly). Thus, your task is to create a story that captivates by details, informs by facts, and makes to collaborate.