Why presentation skills are important and how they can be improved?
December 15, 2021
|
4 min read
Have you ever felt nervous every time you were asked to present a company statistics or startup pitch in front of a group of people? Do you remember your hands feeling cold, legs shaking, and a voice trembling? It might indicate that you lack presentation skills for a business audience, which is bad when seeking investment or financing for your startup or company.
What Is Presentation Skills?
Let's start with an introduction of presentation skills to you as an emerging leader. These are skills you have to develop and nail constantly to deliver captivating, informative, and convincing presentations.
Improving PowerPoint presentation skills is vital to convey complete confidence and clear messages. You need to perform in coincidence with your slides and lead people through a concise but exciting story of your project path. We advise delegating pitch deck design to presentation design service and focusing on public speaking.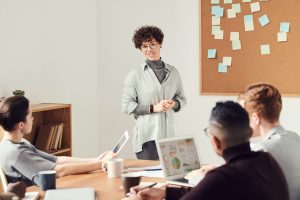 Importance of Presentation Skills in Public Speaking
Public speaking is an amazing skill for your professional development, and there are many reasons to take it seriously.
Presentation skills PPT will position you as a project or startup leader and boost your career success up to 50%.
Mastering a new skill gives you a sense of personal value out of learning that skill.
There is a lot of excitement and nervousness involved in public speaking, so you gain a sense of confidence doing well.
It stimulates you to find your unique voice, not imitate other speakers.
The whole reason to speak publicly is to benefit your listeners, sharing what you have with the world.
7 Polished Tips on How to Improve Presentation Skills + PPT?
⚬ Plan for the Content
There is no need to open your PowerPoint before you know your subject, outline, and all points to mention. Have a clear text structure to allocate it through the PowerPoint easily and reasonably.
⚬ Reduce the Text to Keep It Simple
No need to use much information, plenty of graphic options, and dozens of colors and fonts. Your audience is here to estimate your knowledge, not your presentation skills. Presentation is an appendix to your speech, so do not overdo it.
⚬ Stage Fright
See stage fright as positive energy. You might wonder, how could those uncomfortable butterflies be positive? But we want to show you them in a positive light. If you have these butterflies, it just means you want to do a good job. There is nothing wrong with being responsible and, thus, nervous.
Improving presentation skills starts with proper breathing. Quite apparent tips, but people tend to forget what's obvious. Concentrating on your breath shifts your focus from increased anxiety and calms you down. So, slow the breath. It will help you to go slower and connect with the audience.
⚬ Prepare for Different Audiences
We didn't surprise you again, did we? This advice may seem like a no-brainer, but you'll be surprised how you can surpass people who wing it. It would help if you prepared, understood your audience, and studied your central subject matter. You will thank yourself when presenting your ppt by giving yourself such guidance. Pitch deck design may be amazing, but weak speech and inappropriate tone of voice will spoil the impression.
⚬ Practice, Practice, and Practice Again
We do not cease to amaze, right? But you need to PRACTICE what you've PREPARED. They're two totally different things ⎼ when you talk in your head versus speaking aloud. Pretend like you're on the stage alone in front of your mate, pet, or even a flower in a pot. Show them slides and practice gestures.
Walk around. Feel it out. Have muscle memory. Make your body remember.
⚬ Have a Dress Rehearsal
You've done your preparation and practice. You have all blocks of your pitch deck. And if you have an opportunity to rehearse in the actual auditorium of your public speaking, do it certainly. You will notice this big difference VS preparing in your room by your desk. There won't be new surroundings and a new stress on the presentation day. Presenting at home is always more comfortable and confident, right?
⚬ Arrive Early
If you're presenting, and it's a significant speech, the last thing you need is to feel stressed because you're running late. Traffic is merciless, so don't let a bunch of cars ruin your future investments or career projections. Do your practicing, check notes out, and don't feel stressed.
Let's Summarize
Practicing your upcoming presentation will help you tighten up your content and refine your delivery skills. But people don't practice. Stand out and impress your audience.
Rehearsing aloud will not make you canned but grounded with your topic, secure with slides, and connected with the audience.