Why presentation of data is important?
December 16, 2021
|
3 min read
With the digitalization era, data went from scarce, expensive, and challenging to find to abundant, cheap, and complicated to process. That's when the need for statistics presentation of data has emerged. Reliable and reasonable amounts of information were so vast that they were challenging to seize, store, understand, and analyze with traditional methods.
What Is Data Presentation?
Terabytes of unused data in a data center is a burden. If correctly processed, it can become digital gold. Similarly, your company or startup has valuable data, and data analysis presentation is the most convenient and attractive way to demonstrate your growth projections, monthly expenditures, revenue achievements, etc.
To present data effectively, you need to:
Know how to illustrate the different methods of presentation of data;
Determine the different types of graphs and diagrams and their uses;
Represent a set of data using various data presentation methods.
If you feel or exactly realize that you lack knowledge and expertise in these points, we advise contacting a presentation design agency to have all numbers formatted and drawn in attractive pie charts, bar graphs, and all kinds of diagrams.
How to Present Data in a PowerPoint Presentation?
Methods of Data Presentation
There are 3 main methods of data representation in PowerPoint:
Textual;
Tabular;
Graphical.
We are here for a data PowerPoint presentation, so let's focus on the last method. Graphical representation of data enables your audience to study the cause and effect relationship between two variables. It helps in easy and quick understanding of data for listeners of different preparation and knowledge levels.
Kinds of Graphs/Diagrams
Numbers have an important story to tell, and using a correct graph or diagram will nail this story:
A bar graph is used to show relationships/comparisons between groups;
A pie or circle graph shows the percentage effectively;
A line graph is most useful in displaying data that changes continuously over time;
Pictograph uses small figures of objects called isotopes in making comparisons (each picture represents a definite quantity).
This variety keeps your hands open to choice and improvisation. However, if this factor, on the contrary, restrains you from presentation design, you should address presentation services that make both PowerPoint and Google slides design.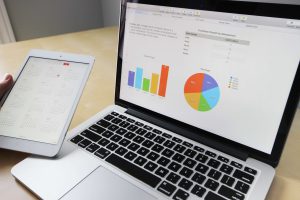 Data Presentation Tips
Presenting data on slides should follow specific principles to remain informative while visually attractive:
Only show the data you're talking about;
Don't just copy and paste a big Excel table;
Never present a single number;
Highlight 1 focal point per slide;
Charts and graphs are pictures and should tell stories;
Use colors;
Use consistent formatting;
Use appropriate chart types;
Use stickers to protect yourself.
Nobody likes too many boring numbers, and data by itself is useless. Use these tips to make it more friendly to the audience, and your audience will appreciate your effort.
Let's Sum up
Presenting data seems like a complex task, but mastering it will show your diligence and expertise. Remember, your job as a presenter is to help your audience cut through all the noise. You must help them interpret the data in a meaningful way. Use today's information when it comes to visualizing data by incorporating charts and graphs into a presentation everybody understands and story persuading anyone.