Give a project plan presentation (expert senior-level tips)
December 12, 2022
|
5 min read
How to Create a Project Plan
A project plan presentation is a visual way or approach to solve an exact problem and reach more opportunities. An attractive project plan in PPT provides a clearer vision and outlines essential implications. Most commonly, they'll be used at the project's kickoff to get people acquainted with your product, coordinate resources (whether human or material), establish common goals and achievements, and define every side's task in a specific timeframe.
Project management plan templates are the best way to include all generally discussed and necessary things:
Executive summary: company description, product & services, marketing plan, funding request, etc.
Background: history/problem/opportunity, requirements, suggested solution.
Proposal: budget, scopes, resources, vision and goals, deliverables, reporting, risks, timeframe, implication, success criteria, authorization.
Scope Statement
The pivotal part of your project plan ppt is to create a scope statement slide. In layman's words, it is a potential or actual work agreement between you and the investor/client. Thus, this outline keeps everybody on the same plan page. It has to include objectives, deliverables, exclusions, constraints, assumptions, and milestones.
Team Involved
You gather a team of experts to deliver project success, both full-time and part-time. As for the people involved in the project, you have to mitigate high-level staff. They are likely to have assumptions you need to get out. Many extra issues appear when assumptions need to be worked off, both organizationally and project related.
Goals and Deliverables
Make sure you've had enough explicit talks with the one in charge of the project. When things are incorrectly understood, projects get in trouble. If you only assume project purposes and outcomes, you let your team and investors down.
How to Give a Project Management Plan Presentation?
When the project plan is ready, it's high time to present it to investors and all stakeholders. Beware – when it is READY. Many people make a common mistake: they forget the timing significance and invite stakeholders as soon as they get their project basics and general information. As you can see above, you have many project plan slides to prepare. You must have what to present to meet expectations and induce excitement.
Besides, understand the purpose of presenting a project plan to executives. Investors expect clear data, confident statements, and effective solutions. Refrain from turning this presentation into a clod of meaningful words.
If you need help designing these slides, we advise contacting a professional custom presentation agency or looking for project plan PowerPoint presentation templates. It will free up more time for data collection or speech preparation.
Slides to Design for Project Plan
Make sure your presentation includes basic project plan slides and the required filling:
Project Scope (Objectives, deliverables, technical requirements, limits, and exclusions).
Background.
Project Team Roles and Responsibilities.
Schedule (milestones, start date, end date, phase percentage breakdown).
Risks (human, operational, financial, technical, and natural) + risk response development and control.
Dependencies and Constraints (technical, management, inter-project, and date constraints).
Budget (total, estimated, and actual expenses).
Communication Plan (audiences and communication message contents).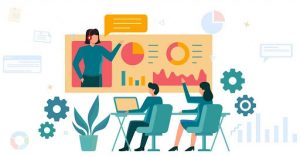 What is the Project Communication Plan?
The communication plan guarantees the project team prepares and arranges pertinent, credible, precise, and consistent project data for investors and all stakeholders. Such a practice identifies information to communicate, channels of communication, and frequency of messages. Each audience has different key communication messages to be delivered in meetings or emails bi-weekly, weekly, monthly, or bi-monthly.
Types of audiences:
Project stakeholder;
Project core team;
Project review team;
Project staff;
Project manager.
Communication message contents:
Project plans;
Status report;
Project briefing.
Changes.
A communication plan is a tool/technique to avoid plenty of misunderstandings you will meet. Every person lives in their reality. Every project manager's task is presenting the project plan and arranging the investors' realities with the team members' world. If you do so correctly, you will not spend time resolving conflicts, meeting unrealized expectations, and discovering new project plan gaps at each team call.
Traps When Presenting a Project Plan
⊗ Lack of preparation: document all significant data, be confident, and keep track of time.
⊗ Asking investors for real solutions: be limited to feedback, input, or consensus request.
⊗ Be short in the offered options: too many may create confusion and no real decision.
⊗ Define the next steps of your cooperation.
Best Practices When Presenting a Project Plan
✓ Start with the end in mind: what would you have the investors do?
✓ Know your audience and their styles: strategic, analytical, visual, data-oriented, etc.
✓ Set a vision: let investors know how your plan will look in real-life results after the suggested solution.
✓ Define success criteria: be concise with what investments you need for this project to succeed.
✓ Get buy-in and sign-off: do not allow people to forget what was said or explicitly agreed.
✓ Ensure authorized approvers/signers are present: try to get a signature then and there.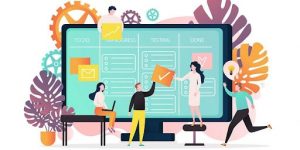 Get Your Project Plan Approval
There is a hierarchy within organizations, and your project will have investors, sponsors, or senior executives who want to be aware of what's going on. Despite your managing role in the project, you have to follow the channel of command and know how to present a project plan. As soon as you've presented everything back – decision-makers approve budgets and ensure your team members can be successful because they can remove roadblocks.
Prepare for lots of negotiations and different assumptions. For example, they expect some phases to be done earlier while you have half of the team sick. We do not mean anything negative to avert you but consider the human factor and gauge the project's responsibility.
If you perform it correctly, you start executing, do it smoothly, and monitor easily. At last, you can see feedback from all that effort and energy contributed to all points, stages, and slides we described above.