How to prepare a scientific presentation
October 20, 2023
|
9 min read
Putting together a scientific presentation might be a pretty challenging undertaking. However, with careful preparation and planning, it can turn into a rewarding experience.
In this article, we'll discuss the purpose, presentation methods, and structure of an excellent scientific ppt, as well as share essential tips on how to introduce a scientific presentation, so dive in!
What's a scientific presentation
A scientific presentation is a formal way to share an observation, propose a hypothesis, show and explain the findings of a study, or summarize what has been discovered or is still to be studied on the subject.
Professional scientific presentations aid in disseminating research and raise peers' awareness of novel approaches, findings, or issues. They make conferences memorable for both the audience and the presenter.
Presentation methods
The three major presentation methods that are frequently used at large conferences include platform (oral), poster, and lecture presentations. Although appearing seemingly different at times, they all have the same requirements and difficulties for successful execution, and their main prerequisite is you, the presenter.
An effective presenter should have led the research, taken part in the analysis, and written the abstract and manuscript, which means the presenter should be fully knowledgeable about the topic at hand.
Scientific presentation structure
For the majority of scientific presentations, it is advisable to follow the traditional structure:
Title → Introduction/Background → Methods → Results → Discussion → Conclusion → Acknowledgements.
1. Introduction
The main elements that make up the introduction include the background of the study, the research problem, the significance of the research, the research objectives, research questions, and/or hypotheses.
The background is the premise upon which the study's problem is built. It usually consists of one or two sentences.
After the background usually comes the research problem, which is made up of one or two sentences with clear statements. These can be anything from conflicting findings to a knowledge gap your scientific presentation PowerPoint addresses.
The justification part should briefly outline how the findings will contribute to the problem's solution. It can also discuss the possible implications of the study in not more than two sentences.
Next comes the purpose of the study, which has to outline your goals and relate to the study's title.
You may wrap up the introduction by listing the objectives of your study, research questions, or hypotheses. The study's objectives describe the specific steps that must be taken to accomplish the goal. Please note that the objective can be turned into a research question and a research question, in turn, into a hypothesis.
2. Methodology
This section of your presentation should include a relevant study area map. It is recommended that you adequately describe the research design and use diagrams like flowcharts whenever possible.
Additionally, explain the procedures for obtaining the data for each objective, research question, and hypothesis. Finally, state the statistical analysis procedures used.
3. Results and discussion
An oral presentation will always include both the results and the discussion. However, the slides will only contain the results.
You can use tables and figures together, but they shouldn't be applied to the same data set.
The results of your scientific PowerPoint presentation have to be organized in the same order as the objectives, research questions, and hypotheses. Still, describing and discussing the obtained results should be done off-head.
During your presentation, explain the findings in the tables and figures, pointing out any patterns. Also, discuss the results by assigning reasons to patterns, comparing the results with earlier research, and offering interpretations and implications for your findings.
4. Conclusion
Your presentation's final section should offer closing remarks on the study's key findings, not restate the results. Discuss the findings and their implications and make recommendations for additional research briefly and concisely.
If you include in-text references in your slides, always provide external references on a separate slide.
Prepare your title slide before beginning the research's introduction section. Your name, your institution or department, the title of the presentation, and its date should all be included on the title slide.
Last but not least, your second slide should include the scientific presentation outline.
3 things to pay attention to when creating a scientific presentation
1. Color
Color is a powerful tool for setting a pattern. It can make it easier for the reader or the audience to follow you and comprehend the connection between the subjects you are presenting.
According to our design experts, you have to create a natural flow of information and emphasize information that the reader has to see first (e.g., title or main image). Secondary data has to be less prominent, not to take priority. This all can be achieved through colors. Striking colors will quickly grab the audience's attention. Meanwhile, a grayscale will be more discreet, making it ideal for secondary information.
Pro tip: Select one or two primary colors for your presentation, then use them repeatedly on the slides.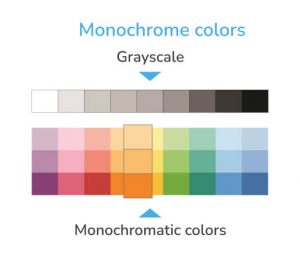 2. Typography
Font selection is crucial for the overall success of your presentation. Therefore, make sure your text is simple to see and read even if the person is sitting a considerable distance from the screen. Separate paragraphs and headings and stick with three different fonts at most (e.g., Helvetica, Gotham).
Remember that your audience will be looking at the slides while you are speaking, so avoid putting too much text on them.
Pro tip: Use a different font for your headline but ensure it doesn't create the "comic sans" effect.
3. Visuals
Visual aids such as charts, graphs, and images are indispensable for effectively conveying information and grabbing the audience's attention, but you must choose them carefully.
Make sure to move from this to this:
Pro tip: If there's a diagram, chart, or other visual that you don't plan to walk your audience through, cut it.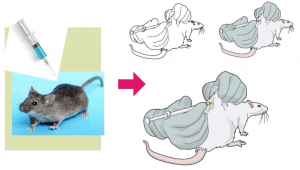 Here's a good scientific presentation example to follow: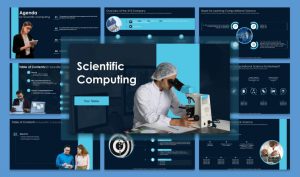 Now that you know how to make a scientific presentation and what to pay attention to when creating one, let's move on to the scientific presentation tips from the best designers of our professional presentation services.
Top 10 tips on how to present a scientific paper
Tip #1: Know your audience
View the presentation as a dialogue with the audience rather than a monologue, and always consider the interests and expertise of your audience. This will help you tailor your scientific presentation to their level of knowledge and interests.
Tip #2: Make use of PowerPoint
PowerPoint is an excellent tool for presenting scientific research if appropriately used. Generally, this involves inserting a lot of relevant visuals and minimum words with a font size of 24 points and above.
Tip #3: Tell your audience about your research rather than its background
Focus on discussing the research that you are directly contributing to. The background information should only include the bare minimum. People don't attend conferences to hear a review of previous work. They do so to learn about new and intriguing research, so use the allotted time to your advantage.
Tip #4: Practice and rehearse
Always practice your presentation of science thoroughly before giving it to anyone. By doing so, you'll gain a better understanding of the material and make sure your presentation flows smoothly.
Tip #5: Keep to the time limit
A basic rule of thumb is to keep your presentation to 80% of the allotted time. If you are given 55 minutes to deliver your presentation, prepare 45 minutes worth of information: 15 minutes for introduction, 25 for the main aspects of your presentation, 5 to summarize and conclude, and leave the last ten for a Q&A session.
A well-done abstract, a set of carefully chosen viewgraphs, a brief "cheat sheet," and an outline (perhaps placed in the corner of each viewgraph) should all help you stay on track throughout your presentation.
Tip #6: Don't read from the slides
Reading from slides is commonplace in various fields, but do you really find it interesting to hear someone read their conference presentation? If reading is an absolute must, then our experts advise you to do it in such a way that no one in the audience notices it. Writing your text in a conversational tone and reading with emotion, conviction, and variations in tone is a great trick to achieve that.
Tip #7: Summarize the key points
Reiterate your main message and briefly touch on your main points in your conclusion. By doing so, you can ensure that your audience will remember the most crucial details of your presentation.
Tip #8: Use effective communication techniques
When delivering your presentation, use appropriate body language and effective communication techniques. These include maintaining eye contact with the audience, speaking clearly and at a reasonable volume, and conveying enthusiasm about your work. Remember, genuine enthusiasm accounts for 90% of a speaker's success.
Tip #9: Engage the audience
Always ask questions and use polls or other interactive tools to interact with your audience and encourage discussion.
Tip #10: Dress for success
When preparing to give a scientific presentation, dress up professionally. This will help convey two crucial messages: you respect your audience and are willing to conform.
Wrapping up
Following the above science presentation structure and tips, you can create clear, informative, and engaging slides that effectively communicate your message to the audience. However, if you're still wondering how to start a scientific presentation or need a PowerPoint makeover, don't hesitate to contact our dedicated design experts!
At SlidePeak, we know that building a visually captivating presentation may be a real challenge for researchers and scientists. That's why we've developed several services, including presentation redesign and creation from scratch by qualified scientific, technical, and medical designers who can make your work stand out both in science and creativity.
With over a decade of experience in presentation design, SlidePeak is trusted by thousands of researchers and scientists worldwide. So, submit your scientific presentation order today, and let dedicated experts turn your ideas into professional slides that will help you make an impact!