Franchise presentation: what it is and how to create an effective one
We have all sat through a subpar presentation. Whether a boring lecture or a terrible sales pitch, there is nothing worse than sitting through a presentation and hoping it will end soon. What, though, could be worse than that? Undoubtedly, experiencing rejection after putting a lot of effort into your franchise PowerPoint presentation.
It isn't easy to sell to others, but it's more than possible if you know the right tactics. In this article, we'll tell you how to create an effective franchise ppt that prioritizes the franchisees and helps close deals. So, let's get straight to it!
What's a franchise business PowerPoint presentation?
A franchise presentation is a collection of slides that give potential franchisees essential details about the business. It helps communicate the benefits of the investment opportunity you are offering them. Depending on the market and sector your presentation is targeting, the content will vary, but the purpose will stay the same: to serve as a sales tool.
The great thing about this type of presentation is that the bulk of the work has already been done for you. The information is already provided as part of your business plan, and all you have to do is repackage it to demonstrate the reliability of your brand and make it more appealing to prospective franchisees.
Remember, with a well-designed franchise business presentation, you'll not only be able to communicate the benefits of your brand clearly but will also elevate your pitch to the next level and make it more purchase-worthy!
What to include in your franchise presentation ppt?
We know your business has much to offer potential franchisees, but you don't want to flood them with too much information at once, do you? The following is a slide-by-slide guide on what should be included in your PowerPoint franchise presentation:
Presentation overview slide, where you list the key points to be discussed during the meeting.
Problem identification slide, where you speak to pain points, use stats to back up your statements and lead into your value proposition.
Business introduction slide, where you tell the potential franchisees more about your business values and what you are about.
'Why Us' slide, where you explain what makes your business unique and what value it offers.
Products/services slides, where you clearly explain what your offering entails on a maximum of three slides.
Meet the team slide, where you show a potential franchisee the team they'll be working with.
Process & pricing information slide, where you describe how a new client is brought on as a customer, the pricing options, and what to expect next.
Conclusion & next steps, where you tell about the next phase of the process.
Pro tip: Before ending your pitch deck, ensure you answered all prospective franchisees' questions. This will make them more likely to be positively engaged with your business and might lead to a closed deal.
How to make a franchise presentation that converts?
While anyone can quickly create a presentation using Google Slides or PowerPoint, designing a franchise business plan presentation that converts opportunities into deals requires a sales-driven approach. It's crucial to follow these steps if you want to deliver a presentation that resonates with your target audience and converts:
Understand the needs of your target audience
When you have a complete understanding of your ideal franchisee's needs, you can more effectively adapt your message to them. Therefore, before you start building your presentation, identify who you are pitching to and their pain points, needs, and goals. After that, determine what's in it for them and what makes your business better than the competition.
Highlight your business differentiators
Making sure your slides aren't overly text-heavy is one of the secrets to a successful franchise deck. A healthy balance of text and visuals should be present on each slide. Also, ensure your presentation's visual aspects, including its colors, typefaces, and graphics, are consistent with your branding.
New to presentation design? Check the franchise presentation template below or opt for professional PowerPoint design services to save time and ensure that your offering is presented in a compelling way and is consistent with brand standards.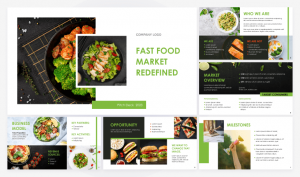 Build credibility with stats
Case studies and strong data are the two strategies to support your franchise pitch deck. Even a potential franchisee who agreed to meet with you will still have doubts. Due to this, you must establish credibility and convince them that your business is legitimate and purchase-worthy.
Remember, case studies can demonstrate your business's worth in the best way possible, while strong stats might be what turns a prospective franchisee into a full-fledged franchisor.
Don't memorize your pitch—practice
Once you're done with the design part, it's essential to practice your deck as much as you can. This does not imply that you must know every word on every slide by heart, but rather that you should present your franchise to brokers and other potential franchisees in a natural way. Instead of utilizing the slides as a script, let them lead your thoughts and words.
Another secret to a successful franchise ppt is preparation, but practice, not memorization, is what it entails. Make sure the material is comfortable for you, and work on developing the self-assurance necessary to deliver your pitch without even looking at the slides. It will come naturally as a result, and the conversation with the potential franchisee will turn out to be more engaging.
Consistently ask questions
You'll quickly bore your prospective franchisees and lose their interest if you're the only person speaking during your pitch. Instead of reading your presentation like a robot, ask them questions and let them talk. This will increase engagement and result in more successful follow-ups.
These are some example questions to ask:
What is your current top priority?
Are you considering different opportunities? If so, why?
What are your should-haves, could-haves, and must-haves?
Even if you've given the ideal franchise pitch about your business, your job isn't done. After informing the potential franchisee, you must explain the next steps to them. The entire purpose of your presentation is to persuade a potential franchisee to purchase your business. If they're not completely sure how to do it, you probably won't sell to them. Clarify what will happen next. What activities must they take? What outcomes can they expect? Schedule a second appointment or a follow-up call if your potential franchisee isn't quite ready to purchase at that very moment.
Nurture relationships with prospective franchisees
Lead nurturing is the process of keeping prospective franchisees in the sales funnel and building relationships with them until they are prepared to make a purchase. Without it, you risk passing up valuable business opportunities.
It's crucial to employ a variety of communication channels to interact with prospective franchisees when nurturing them in the sales funnel, including sending email marketing collateral, making warm calls, etc. You risk discouraging a prospective franchisee from ever conducting business with you if you prioritize one lead nurturing strategy over another.
Using all available lead nurturing strategies may be advantageous. However, keep in mind that your relationship-building efforts have to be in line with your buyer persona. For example, if you discover that the majority of appointments are made via email, concentrate your lead nurturing efforts on delivering high-quality email marketing content rather than making frequent cold calls.
Additionally, it's crucial to regularly review your sales enablement program to see which lead nurturing tactics work best and modify your strategy accordingly.
Main takeaways
Although there are numerous approaches to franchise presentations, some are significantly more effective than others. A deck design may make or break whether a potential franchisee becomes a full-fledged franchisor.
If you don't know how to present a report about a franchise in the best light and need help with pitch deck design, contact a representative at SlidePeak at any time that's convenient for you, and let's discuss how our dedicated team can help turn your franchise ppt from a cookie-cutter one into one to remember and bring the desired results. We're at your service 24/7!