13 actionable tips for more awesome marketing presentations
November 23, 2021
|
6 min read
A marketing presentation is a set of slides in PowerPoint or Keynote, accompanied by a presenter's speech, to introduce new products, drive sales, and get the audience acquainted with your service. Furthermore, it takes skill to make a good marketing presentation with creative design. Using PowerPoint power, you can turn your ppt into an engaging, invigorating, and effective piece of content. Marketing presentations can help you in solving problems related to spending every marketing dollar wisely and stir interest in the proposed product. To do so, you need to understand current trends, see your audience, and use helpful tips for marketing presentations in PowerPoint from this article.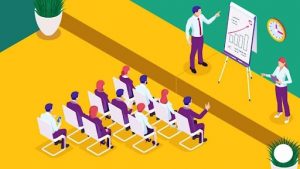 1. Research Marketing Presentation Examples to Inspire
Plenty of data to visualize can make you procrastinate. Do not be afraid to repeat or refer to but do not duplicate. Plenty of professional templates are available on the internet for you to review, analyze, and come up with something original.
People who start doing presentations may not know how to make proper formatting or coincide colors to make them attractive. They can always address a professional custom presentation design agency to ensure the result.
2. Keep a Story Flow to Create the Best Marketing Presentation
Any information needs to be structured. A few are interested in numerous digits, data, and statements telling little. All partners and investors are still people who prefer organized facts, representing a logical sequence and a connection. At the storytelling stage, highlight information that will help convey your message, structure it and combine it into a single canvas.
Focus on the story. Contrast the story. Unite the story.
Answers to these questions will help to formulate the general presentation goal and form:
What do I want them to do?
What do I want them to remember?
Do I evoke emotions, intrigue, or conflict between real people or views (conflict of values, ideas)?
How do I want them to react?
Do I have an introduction, problem, solution, and conclusion?
3. Remember the Gold Rule of Any Content Marketing Presentation
Despite the ppt type you create – either business or promotional presentation, use 4 P's marketing mix including Product, Place, Price, and Promotion. Any marketing plan or social media strategy requires an effective marketing funnel to be created and proper channels to be promoted. You need to define what channels work best within the invented funnel to follow expected campaign success and ROI.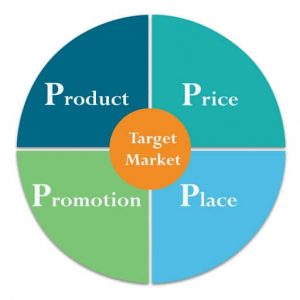 4. Simplify as Much as Possible in Marketing Presentation ppt Slides
As you create each slide, ask the question "What is its purpose?" in the context of the company's business goals. This question is pertinent concerning the whole slide and its specific elements. Don't be afraid of white space. We recommend filling your presentation with meaningful pictures and legible text.
Highlight only one concept on each slide. Make the more important elements large and bright, and the less important ones small and close to the background color.
5. Use Trendy Marketing Presentations Ideas
Try to keep up with the times and design your slides so that they don't feel like a relic of the past. After all, the level of audience confidence in you as a specialist will depend on how well you design your presentation.
We recommend that you ditch shadows, gradients, and other old-fashioned effects. They are irrelevant in current trends and design development. Otherwise, most people strive for minimalism that gives a space for reflection and does not distract from the main meaning.
6. Do Not Use More than 5 Colors in the Presentation
It is best to use no more than 2-3 colors on one slide, taking into account the main background color. Not more than five colors are advised throughout the entire presentation. Don't turn your presentation into a rainbow, even if your talk is about a children's topic. A large number of colors interferes with reading and making sense of the slides.
7. Use Modern Fonts
We recommend that you opt for more modern fonts like Helvetica, Open Sans, or Roboto. There are standard ones like Calibri, Comic Sans, Times New Roman, but we suppose they are rather boring and do not produce the desired effect on the audience.
8. Unite Slides
To nail down all marketing efforts you've made, do not spoil it with slides' disharmony. The image is the most important thing on a slide. If you use a picture or illustration, it must be made large. Besides, it needs to be accompanied by the text of the appropriate font and suitable background.
The slides' design is made not for beauty but to make them clearer, set the general tone, and evoke certain emotions and associations among the public.
9. Build A Journey Map
It is a good one among millions of marketing tools to answer every company's question: How do people actually use our product? To answer so, you need to understand the whole experience from the user's perspective at its core. It is an 8-steps process to visualize user interaction with the product and, thus, increase brand awareness:
Choose an interaction scope.
Create a typical user persona.
Define scenario and user expectations.
Create a list of touchpoints.
Take user intention into regard.
Exemplify the journey.
Investigate the user's emotions and feelings during each step of the interaction.
Confirm and specify user journey.
10. Use Inbound Marketing Tools
These are online promotion tools used to draw the audience's attention to a product without intrusive advertising. It allows you to convey truly useful and interesting content to your audience. The next is used in email newsletters, blogs, and social networks:
high-quality texts;
infographics;
videos;
podcasts;
SEO.
11. Include Personal Examples
Either business or promotional presentation – try to address a specific audience. The media marketing world does not tolerate generalization since it commonly leads to no audience at all. Sometimes, people need to be 'pushed' to some choice, and it is the task of your presentation to show in detail and examples the solution to their prospective pains or corresponding benefits.
12. Encourage Yourself with a Familiar Area
That is why most presentations turn out to be passable. If you are not interested in a topic you present, why bother tackling it at all? Presentations made 'for show' are doomed to failure because there is no soul in them. Want to make a cool product? Pick a topic that really excites you or in which you consider yourself a cool expert.
13. Joke and Be Sincere
Practice how to laugh at yourself even during essential presentations. There are many TEDx talks to investigate this skill. Take a look. Conclude. Smile. The audience will appreciate your ease of communication and ease of speech.