Top strategies and tips for creating awesome marketing presentations
January 25, 2023
|
11 min read
Curious about how to make an engaging marketing presentation? Whether you're new to slide design and need to present a marketing strategy or just looking for ways to make your deck more effective, you've come to the right place.
Designing an effective marketing presentation doesn't have to be a challenge. If you have the proper strategies and know what makes content both visually appealing and engaging, you can easily nail your next presentation.
In this article, we'll discuss what a marketing presentation should include and give tips on how to do a marketing presentation that actually work.
So let's get into it!
What is marketing presentation?
A marketing presentation is a set of slides in PowerPoint, Keynote, or any other software accompanied by a presenter's speech. They aim to introduce new products, drive sales, and get the audience acquainted with a new product or service.
Marketing presentations can also help you solve problems related to spending every marketing penny wisely and stir interest in the offered product or service. All that's required from you is understanding current design trends, knowing your audience, and using helpful tips for marketing presentations in PowerPoint from this article.
What to include in the marketing strategy presentation?
A marketing presentation has to include information about the new product or service, how it differs from that of the competitors, what channels you intend to utilize to sell it, etc.
Let's examine the seven components of a good marketing presentation.
1. Marketing objectives
The first step in creating a marketing presentation is recognizing and defining the gap between the target audience's problem and the solution (your product or service). There are several ways to go about it, but one method used most frequently by seasoned marketers is customer surveys, which help find out what the target audience thinks the market lacks.
Alternatively, you can identify the gap by researching and closely observing industry trends.
Keep in mind: your marketing goal is to eliminate this gap.
2. Value proposition
Value proposition means the strategy you'll use to attract clients to your product or service. What are its price and quality, unique selling points, etc.? You can use this information to explain to your target audience why they should choose your product over that of your competitors.
3. Market segmentation
You cannot sell your product in the same manner in the US and the Mideast. Both markets are unique in terms of culture and habits. That's why your marketing presentation should discuss the cultural similarities and differences and your strategy for distributing localized promotional content. It also should include information about your target audience and their purchasing habits.
Here's a good marketing segmentation example: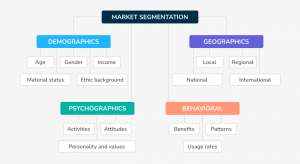 4. Brand positioning
Brand positioning is all about the target audience's perception of your product or service. It will influence everything — from the funds you have to set aside to the marketing channels you have to use.
What should a client associate your brand with? For instance, when someone mentions Versace, we automatically picture richness and style.
5. Customer journey map
How do your customers shop? Before shopping at a physical store, do they see ads on mobile phones or TV commercials? Or do they shop online? You can better understand how to lead them toward the purchase by simply defining their purchasing path. This should be stated in your marketing plan ppt.
Here's what an online shopping customer journey map looks like:
6. Marketing mix
Your marketing presentation has to cover strategies using which you are going to promote your product or service, including the 4 Ps of marketing:
Product: What are you going to sell?
Place: Where will you sell it (online or in a physical store)?
Price: How much your product or service will cost?
Promotion: How will you create awareness of your product or service (ads, social media campaigns, etc.)
Any marketing plan or social media strategy requires an effective marketing funnel to be created and proper channels to be promoted. To follow expected campaign success and ROI, make sure to define what channels work best within the invented funnel.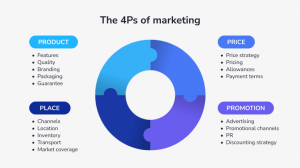 7. Market analysis and measurements
How do you intend to assess your marketing efforts?
Tracking the effectiveness of digital marketing campaigns is rather simple: you can rely on SEO, social media metrics, and other tools. But how can you create a comprehensive analysis and measurement strategy when your overall revenue originates from many sources, such as cross-device sales and physical purchases? Your marketing presentation should also include a detailed answer to these questions.
Now that you know what components are necessary for creating a clear marketing plan, let's look more closely at how to make your marketing presentation one that your target audience will remember.
Tips on creating effective marketing campaign slides
1. Make your marketing presentation about your audience
Understanding your audience, environment, interests, and preferences is the first step to developing stunning marketing presentations that sparkle the audience's interest.
Is your audience C-suite executives, seasoned marketers, or entry-level employees?
What are their core emotional and physical needs?
What are their pain points and motivations?
Answers to these questions will help you put yourself in the audience's shoes and determine how to cater to their needs.
2. Built empathy
Don't just focus on your desires and say what you want. Instead, focus on the audience's side of the story and create empathy with your target audience.
Here are three ways to do just that:
Speak directly about what you'll do for the audience.
Give them a plausible vision of a better life.
Ask if they have any fascinating marketing stories, or share yours with them.
It all will help set the relaxed tone for your presentation.
3. Start your presentation with a hook
We know. It's not easy to start a marketing plan presentation. You are nervous, and the audience might be surfing the web or talking among themselves. Getting its attention is a tough task. But there is an effective way to go about it: start with a hook. It might be a quote, question, or reference to the good or service you're about to introduce. The idea is to sparkle the interest of your audience in what is to come.
Here's a great example: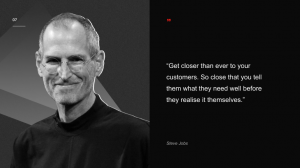 4. Create more slides with little content
People working for corporations, especially senior managers or C-suite executives, can view dozens of presentations daily. It can be very challenging to hold their interest for an extended time.
One of the biggest mistakes most presenters make is putting too much information into one slide to conclude the presentation faster. In a marketing PowerPoint presentation, you should absolutely avoid doing this. Remember, it's better to have 200 slides will little content than 50 heavily loaded with information.
5. Simplify as much as possible in marketing presentation ppt slides
As you create each slide, ask the question, "What is its purpose?" in the context of the company's business goals. This question is pertinent to the whole slide and its specific elements.
Don't be afraid of white spaces; fill your presentation with meaningful pictures and legible text.
Highlight only one concept on each slide. Make more essential elements large and bright and the less important ones small and close to the background color.
Always strive to have numerous slides that contain not only walls of content but also pictures, animated GIFs, and other interactive elements, and follow the rule of three.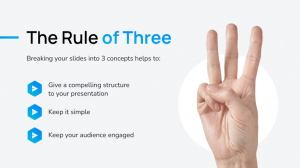 6. Keep a story flow to create the best marketing presentation
Any information needs to be structured. A few are interested in countless numbers, data, and statements telling little. Your audience is still people who prefer organized facts, representing a logical sequence and a connection.
At the storytelling stage, highlight information that will help convey your message and combine it into a single canvas.
Focus on the story. Contrast the story. Unite the story.
Answers to these questions will help you formulate the general presentation goal and choose the most appropriate structure:
What do I want the audience to do?
What do I want them to remember?
Do I evoke emotions, intrigue, or conflict between real people or views (conflict of values, ideas)?
How do I want them to react?
Do I have an introduction, problem, solution, and conclusion?
7. Provide real-life examples and insights
Nothing beats having relevant information and insights to back your content. Your audience could be more interested in learning what you concluded from the data and how you arrived at that conclusion than just wanting to see random numbers on the slides.
Additionally, make sure to give a clear explanation of how you intend to use this information to your benefit.
8. Follow the latest trends in marketing presentations
Try to keep up with the times and design your slides so that they don't feel like a relic of the past. After all, the level of the audience's confidence in you as a presenter will depend on how well you design your presentation.
Some great examples to follow: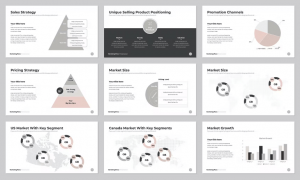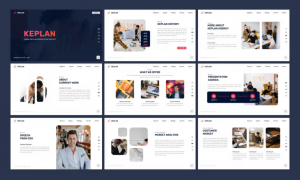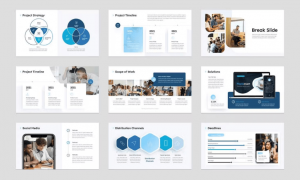 9. Pay attention to the visual hierarchy
It's crucial to think about how the audience will interpret the information you're presenting when creating a presentation. Most people instinctively move to the top of a slide before moving from left to right to evaluate the remaining information. Depending on how your content and visuals are organized, your audience will process visual data either in a Z or F pattern.
People that use a Z pattern scan information from top left to right before moving diagonally to the bottom of the page. Then the human eye processes the visual information from left to right. This viewing pattern is perfect for marketing presentation slides with many graphs or still pictures but few text blocks.
People frequently go from the top left of a slide to the right in an F pattern when slides contain a lot of written content. They follow this pattern until they reach the bottom of the page. This arrangement makes the material easy to follow and helps keep the audience's focus.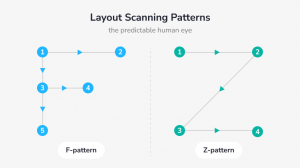 10. Choose legit fonts
The fonts we use significantly affect the presentation's tone, feel, and appearance, so choose wisely and stick with 2-3 fonts at most.
We recommend you go for fonts like Verdana, Georgia, Montserrat, etc. They are easy to read and contrast well with each other.
11. Make sure your presentation is uniform
When designing a marketing presentation, most presenters frequently concentrate more on the content and neglect the visual appeal, which is a bad practice.
We recommend choosing a solid theme or using brand colors and typography in your marketing presentation design. This way, you'll not only get efficient and effective slides but also will help your audience get acquainted with your brand.
12. Keep color psychology in mind
It's unquestionably true that specific colors can affect consumers' purchasing decisions, making them a critical design choice for any marketing presentation.
There are numerous distinct ways that color can affect the audience's emotions. It may draw their attention to particular sections of the marketing strategy slides or even create positive memories.
Here's what colors work well together: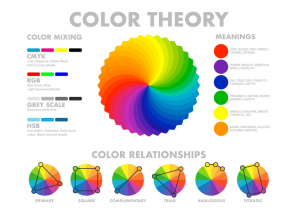 13. Use five colors at most
It's common practice to use no more than 2-3 colors on one slide, taking into account the primary background color. And up to five colors are advised throughout the entire presentation. The reason is simple: a large number of colors interferes with reading and information processing.
14. Strive for harmony
Visuals can make or break your presentation, so ensure all images and icons used are high-resolution and consistent with all other design elements. More to it, every image should be accompanied by text in the appropriate font and suitable background.
Remember, the presentation design aims to set the general tone and evoke certain emotions and associations among the audience, not just to please the eye.
15. Create sharable moments
We live in times when everyone wants to tell their friends about what they've been doing or learning. People appreciate having a "natural" opportunity to discuss details or memorable moments during a conference or marketing presentation.
One of the ideal ways to do this is to have quotable moments or catchphrases in your PowerPoint marketing presentation that the audience can share verbatim or as a photo or video.
These may include fresh market tendencies, particular benefits of your product or service, or other intriguing information that other people would find helpful.
Remember to add your social media hashtag for the target audience to tag your company.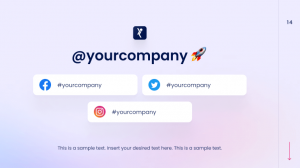 16. Joke and be sincere
Practice how to laugh at yourself even during presentations. There are many TEDx talks about investigating this skill. Take a look. Conclude. Smile. The audience will appreciate your ease of communication and ease of speech.
Creating a marketing presentation ppt doesn't have to be a daunting, nerve-wracking process. If you need assistance creating a professional marketing presentation, don't hesitate to contact our custom presentation design agency. We'd love to help you take your marketing presentation to the next level!