The ultimate guide to creating an ideal elevator pitch presentation in 2023
January 26, 2023
|
10 min read
What is an elevator pitch? What is an elevator pitch designed to do? And even more importantly – what makes a good elevator pitch? It is probably one of the most common presentation types – and it's easy to see why. It is brief, effective, and utterly universal since you can use this format in pretty much any sphere – from business to making friends. So, let's find out exactly what it is and how to make an ideal elevator pitch!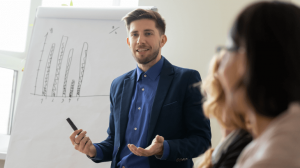 Elevator pitch meaning
An elevator pitch, sometimes referred to as an elevator speech, is a brief, memorable summary of your professional background, product/service, expertise, and credentials. This type of presentation should be quick enough to present during a short elevator ride, which is why it's called an elevator pitch.
This speech is entirely about who you are, what you sell or currently do, and what you plan to do in the future.
Think of it as a Twitter version of your business proposal/plan. You can use over 140 characters to share your ideas during a 60-second elevator ride but only share up to 3 tweets' during the first contact. The reason is simple: the average English word has 5.5 characters with spaces, and a 140-character tweet is equal to 25 words.
Pro tip: In your elevator pitch, speak at a comprehensible 75 words per minute (a little slower than the usual pace of 120-200 words/minute).
Done right, this speech will help you make a solid first impression on potential investors, employers, or business partners. It can also aid in network development, employment, or establishing connections with new coworkers on your first day at a company. You might even learn something new about your business that you never knew before!
Is this something you are interested in trying?
Good! Because we'll soon show you how to do it!
Key takeaways:
Aim to convey your message in no more than 60 seconds and keep your elevator speech short and to the point.
Maintain a maximum of 75 words per minute.
With the limited time you have, be enthusiastic and persuasive. Concentrate on the most critical details.
Use visual aids to grab attention.
To ensure that your speech is effective, record it or deliver it to a friend. Remember, practice makes perfect.
What is an elevator pitch deck designed to do?
To put it shortly, an elevator pitch is designed to introduce either you or your product or service. Keep in mind that your audience would likely be strangers. Your goal here is to catch their attention and spark interest.
Depending on what you want to achieve, there may be different types of elevator pitch presentations:
Introductory elevator pitch – fits anywhere from job interviews to sales campaigns and fundraising events – wherever you need to introduce yourself or your product/service.
Job interview elevator pitch – fits for making a fast overview of your skills and competencies for your potential employer.
"Selling" elevator pitch for business – fits for either selling your product or getting funding to make one.
Remember, your elevator pitch is as helpful during online networking events, job interviews, and trade fairs as in person.
In this article, we'll show you how to craft a powerful elevator pitch ppt to attract investors.
What constitutes a good elevator pitch?
The purpose of elevator pitch slides is to give clear and crisp information about yourself or your product/service. That's why your deck should contain only a few slides. The perfect elevator pitch deck is anywhere between 5 to 12 slides, with smart art and charts.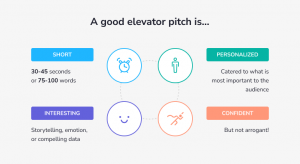 How to do an elevator pitch for business?
There are a ton of elevator pitch examples available online. And every one of those samples follows a slightly different format template.
This raises an important question: which one is the best?
We at SlidePeak will try to provide a clear answer to that question in this elevator pitch guide. Having explored many alternative options, we found our winning template, which we will now share with you.
Our elevator pitch presentation is divided into 8 sections:
Introduction
Problem vs. solution
Market size and competition
Business model
Unique selling point (USP)
Founding team
Money milestones
Call to action (CTA)
Here's a quick overview of what each elevator pitch slide deck section includes and why:
Section 1: Introduction
You might be tempted to begin an elevator pitch with something startling. After all, you want to draw the investor's attention, don't you?
The issue with shocking starters is that they may draw the investor's attention away from your business, which is the main focus of your pitch. That's why we recommend starting out naturally rather than shockingly and putting information on 1-3 slides to make the information easy to understand.
You should include these elevator pitch essentials in your introduction:
The name of the business
A concise summary of your business (no more than two sentences)
A breakdown of the top three products/services you offer (optional)
Your target audience
Make sure to relate all details in no more than 18 seconds or 36 words max. By briefly outlining the details, you give the potential investor a basic grasp of what you do.
Good examples: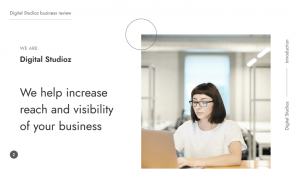 Pro tip: You can skip the target audience if it is obvious, like in the example above (anyone can benefit from social media). For other products/services, this is a crucial component that should be clearly defined.
Starting your elevator pitch PowerPoint with a question or hook is also an excellent way to attract the investor's attention. In such a case, add one more slide before the introductory one.
Example 1: Starting with a question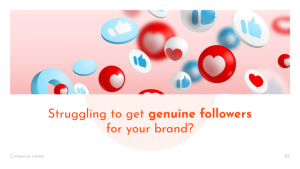 Example 2: Starting with a hook or interesting fact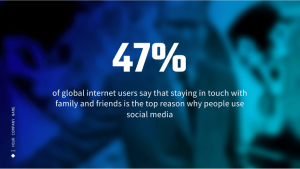 The pitch's beginning or conclusion might both contain a hook. If you're cold-pitching and use your hook at the beginning, your audience might be intrigued. A lengthier conversation will begin if you place it near the end of your speech during a networking event or job interview.
Section 2: Problem vs. solution
The next section has to throw light on the problem you're attempting to solve. It can consist of one main problem statement, several smaller ones that are related to it, or one main problem divided into two to three smaller ones.
The objective is to demonstrate that you fully understand the challenge and quickly tell them about the solution you offer. The simpler to understand, the better.
Good examples: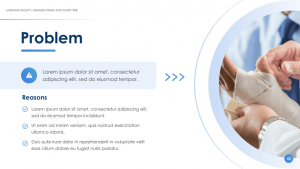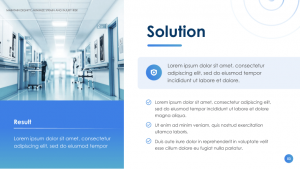 Section 3: Market size and competition
Potential investors are always more likely to invest where they can expect substantial returns. That's why demonstrating the scale of the opportunity and insights into the competition gives an immediate sense of whether they should invest their time with you.
Good example: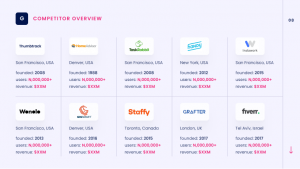 Section 4: Business model
An investor can get a sense of how you plan to make money with a fast elevator pitch slide on the business model. An investor is more likely to convert when a business strategy is clear and compelling.
Good example:
Section 5: Why choose us or our USP
Your objective in this section is to show potential investors how your company stands out from the competition. At this point, they decide whether or not to spend more time with you.
If they want to hold a second listening to you, you are more likely to get funding.
Pro tip: You should be mindful that you have a maximum of 20 seconds to highlight your USP. Therefore, keep information to a minimum and provide details that are absolutely necessary for your investors to know.
Good example: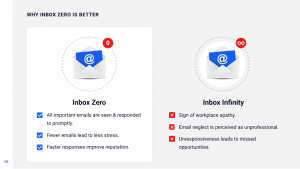 You can also add a slide describing your technology if you offer high-end, technologically oriented products or solutions. If it's a patented technology, make sure to put it forward during your elevator pitch.
Section 6: Founding team
People invest in people.
Investors are interested in the credentials of the people they spend their money and effort on. To inspire trust in potential investors, always include your credentials, experience, and accomplishments.
Good example: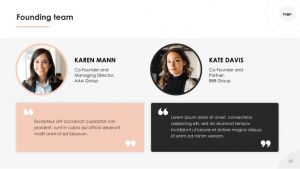 Section 7: Money milestones
Investors absolutely love numbers and will remember them long after your elevator pitch is over. Therefore, make sure to demonstrate a well-thought-out investment process right from the start.
A good example from Airbnb: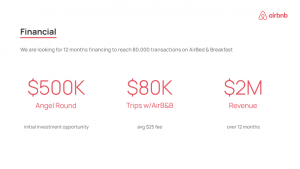 Section 8: Сall to action
A call to action (CTA) is usually a smart idea to include in your elevator pitch presentation ppt because it generates excitement and a sense of urgency.
These are some CTAs to consider:
Go to our website
Like us on Facebook
Visit our store
Check our brochure
Sign up for our newsletter
Contact us to learn more
Invest in our company
Become our partner
Good example: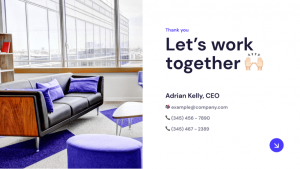 How to speak at an elevator pitch?
Now that we're finished with the content part, let's talk about how you should speak at an elevator pitch.
Actually, time may be quite an enemy here. You start talking faster because you are worried, and there's so little time for you to speak. And if you are a fast talker, this may result in your pitch feeling rushed and hard to follow.
Try keeping a relaxed approach to how you speak. Your steady and clear rhythm will create a feeling of confidence in what you are talking about. This will result in credibility and give you the highest possible impact.
How to end an elevator pitch?
The ending is as important as the beginning, if not more! In fact, the more creative you can be, the more successful your elevator pitch will be.
You need to consider a concluding statement that will stick in the investor's mind. The better the line, the more likely your potential investor will remember your message afterward.
This memory trigger could be anything from a catchy phrase to a promise of value. It can be a summary of the pitch. If you can make it rhyme, bonus points for you!
You can also ask whether further explanations are needed, initiate a discussion, or offer your business card – whatever attracts attention and makes your pitch memorable.
What to avoid in an elevator pitch?
The key thing in an elevator pitch, apart from its size, is clarity.
Here are 6 things you should avoid when you write your elevator pitch.
Avoid truisms, buzzwords, hyperbole, and jargon. Some people can be impressed, but many others will be confused.
Don't speak too fast or ask too much of people.
Weed out fillers and annoyances.
Don't give your elevator speech to people who don't want to hear it or are in a hurry.
Don't take a one-size-fits-all approach. Make sure to refresh your pitch if the situation changes.
Don't speak in a monotone way or frown. Instead, aim for high energy.
Finally, think about how you move and what you do during your elevator pitch. Too many gestures and overall movement may appear annoying, while not moving at all will make you sound odd. So, try to strike a balance and always be ready for objections!
Some good examples to follow: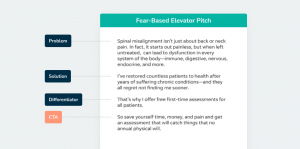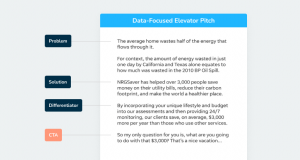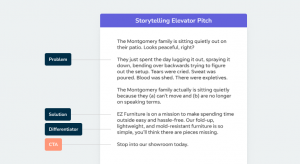 The presentation part
The design, appearance, and feel of the deck have an equal impact on your elevator pitch's success, as does accurately communicated information.
Do not shy away from receiving professional assistance to get the elevator pitch design done. After all, it is your idea that should succeed – an effective elevator pitch deck simply opens the door.
Quick tips for elevator pitch that stands out
Keep it concise, short, simple, and visually appealing.
Select bold fonts.
Give preference to contrasting backgrounds.
Use words, fonts, and images that are easy to understand.
Avoid putting all the information in a single slide –the less information, the better.
Avoid using free stock images – instead, use few but relevant ones.
The bottom line
Stick with the elevator pitch guidelines we've offered in this article, and you will present your business with class and style. And if you have any questions or need assistance creating an elevator pitch, feel free to contact our team at any time convenient for you.
We're always happy to assist business owners and startups in expanding their marketing efforts!