How to create a social media presentation for any business and brand?
September 19, 2022
|
5 min read
What is Social Media Presentation?
Each audience is different. And each platform to reach them differs too. When a business is looking for a social media manager (SMM), they want to know what will be done before it is done: what numbers they'll get and what methods you'll use to achieve them. And social media presentation is the most attractive and informative way to introduce a business PowerPoint presentation based on a sophisticated content strategy.
If you wonder how to present social media strategy, consider our tips to present high-quality research, analytics, and methods to boost the business. A social media presentation is a great way to show your expertise with an attractive visual attachment, so use it wisely.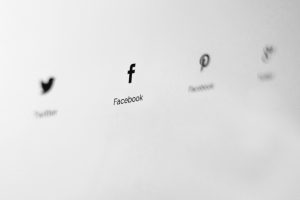 How to Create a Social Media Strategy Presentation?
Before you design slides, you need to have text, images, or infographics to add. A social media PowerPoint presentation must be related to content like social media strategy. For example, you cooperate as SMM with a trip, retail, or even a ceramics business. Below, we describe the steps you must follow and fulfill to create a social media strategy presentation with corresponding slides.
Disclaimer: You should not limit yourself to one slide, e.g., to show the target audience, and we instead give you an approximate skeleton to follow and extend.
Set Goals: Slide 1 ⎼ Social Media Goals
To present informative social media presentation slides, you need to have a solid discussion with the client to discover their business goals and transform them into social media goals. It will impact further brand presentation and research on the target audience, competitors, and promotion methods. In such a presentation, your clients will expect clear and tangible metrics.
For example, a shoe company wants to boost its sales using Instagram. Thus, you have to create goals of getting more conversions in sales, like increased clicks over your website. And the slide depicts how a specific promotion method on a specific social media platform gives specific numbers.
Pro tip: use Google Analytics for enhanced tracking and PowerPoint redesign services to create beautiful diagrams.
Research Your Audience: Slide 2 ⎼ Target Audience
Most clients know the "persona" they are talking to, but your task is understanding if desirable business goals match the typical buyer image. If the client doesn't know their target audience, you should make recommendations but still try to discover the location, age, occupation, or favorite game of the people they want to reach. The more criteria you know, the correct tone and voice you choose to influence people's choices.
Research Competitors: Slide 3 ⎼ Competitors
An effective social media marketing presentation ppt has to analyze competitive companies, which definitely exist. And their SMM has already tried promotion strategies for you to learn from or avoid. Researching competitors is about thinking outside the box and analyzing their mistakes or success. Your customer should not be present on every platform, so observe and analyze which ones work best for your business.
When looking at competitors, consider two main things:
MARKET GAP, e.g., there is no podcast about house plant care.
LEAD ENGAGEMENT, e.g., they get amazing traffic from Instagram.
Therefore, researching competitors teaches you what to do and what not to do: posting frequency, type of content, followings of their followers, and more.
Do Social Media Audit: Slide 4 ⎼ Social Media Analysis
Any social media report presentation must summarize what the company is already doing. It may be a new company you have to launch social media channels for, and it may be an experienced business looking for a new SMM.
If you create social media strategy for an existing company, you audit their media with personal criteria to define baseline metrics: the number of followers, demographic data, average engagements, content performance, and other important analytics.
If you create a social media strategy for a startup, you have what to propose after previous research steps: persona image and suitable social media. For example, the target audience is women, ages 40 to 55, living in the suburbs, so you offer Facebook.
Set Up the Infrastructure: Slide 5 ⎼ Content Posting Tools
In the case of a new company, setting up the infrastructure means, e.g., setting up a scheduling tool or doing SOPs. Answer the next questions if you're going to do everything by yourself:
Am I going to post things natively?
How are we going to get the content calendars approved?
Am I the only one to contact/answer the audience in DM/messaging?
In the case of established companies, they will most probably onboard you on a tool they already use and assign a colleague for you to master the operating system quickly.
Create Content Calendar: Slide 6 ⎼ Instagram/Facebook/TikTok Content Calendar
The last thing is putting together a content calendar and content into motion, which can be the hardest part. The last slides in the social media presentations ppt show an example of a post and calendar in tools like CoSchedule. For example, you will post stories daily, behind-the-scenes images twice a week, and product posts thrice a week.
Regardless of plenty of scheduling tools, we advise building a simple content calendar in Excel Spreadsheets to send it to a client and get approval/feedback.
Summary
This is how you create your social media strategy and presentation. We hope these tips were helpful since we added only important things to know before going in and starting to post randomly. And your client will appreciate social media campaign presentations portrayed on attractive slides rather than telling an endless story without visual attachment.
If you need help with social media slide design, contact us and get professional assistance.