How to create and give a great presentation at a job interview?
June 29, 2022
|
5 min read
A job interview presentation can be your own initiative or the company's requirement for meeting with HR or a recruiter. In both cases, it is your chance to demonstrate your mind, approach, and skills from your vacancy perspective. Additionally, a quality and attractive interview PowerPoint presentation shows your ability to analyze, talk, explain, and persuade. If you're a designer, you should make a pitch on colors, fonts, and other visual components. If you are a sales manager, you should concentrate on numbers and better send a presentation design to the agency.
If you feel you can rely on yourself, we'd like to share some tips on how to make a presentation for an interview and present it confidently.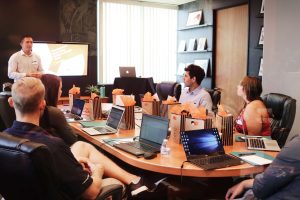 Slides to Include in an Interview Presentation PPT
The zero advice here is to include only the most relevant details and facts of your biography. If you apply for a manager position, mentioning psychology as a hobby will add points. However, if you apply for a programmer, there is no need to show your rewards in ballet or box.
To begin with, aim for one slide per minute. If given 10 minutes, try to contain 10 to 12 slides. Let's outline some basic slides in your presentation for the interview ppt.
All these slides cover a simple 3-stage presentation structure:
Introduction: tell them what you're going to tell them.
Middle: tell them.
End: tell them what you told them.
Slide 1: Welcome the audience.
Welcome people to your presentation by introducing them, saying what you will cover, assuring their comfort as observers, and asking them to leave all questions until the end.
Slides 2-3: About me (education, past jobs, courses, skills).
Slides 4-5: What I can do for you (the reason to apply, strengths, previous achievements).
Slides 6-7: Why I can do it (skills, solutions).
Slide 8: Summary.
Some positions allow including slides about hobbies or some interest outside the work, but we suppose that depends on the seniority of your position and its type. If those interests strengthen your skills required, add them but briefly.
Tips to Improve Your Presentation for Interview
Research the company
The first interview presentation tip is to personalize slides for the company's industry and their latest challenges/news/issues. What kind of products and services do they sell? You adjust your expertise to the company's current problems showing how your skills impact and contribute as soon as they hire you. However, we advise not adding these references to every slide because it may look obsessive.
Know yourself
The second tip to ace your interview presentation slides is to know your strengths. You can list dozens of certifications, but how do they really work and help in practice? Name advantages related to the company. Tell the audience what you have done and can do to assist the company in current challenges. For example, you've researched the company's goals to achieve, and you should focus on those strengths that complement these aims.
Present with PCS format
PSC is an abbreviation meaning Problem, Consequences, and Solution. For example, you start the presentation by identifying a company's problem, continue with the consequences they face without your expertise, and end with the clear solution you propose to overcome the problem. The solution shouldn't be perfect, but this approach shows you're a creative problem-solver.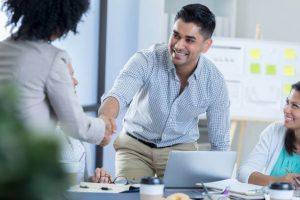 6 C's to Consider to Give Top-Notch PowerPoint Presentation for Job Interview
Psychologically, you need to do a couple of preliminary things to recognize what interviewers are looking for in the first place. Let's review what they specifically search:
1. Communication
They will look at how you communicate, articulate, or are cohesive and smooth. Not only slides but words coming out of your mouth must make sense.
2. Carry yourself
They will notice whether you're enthusiastic, energetic, polished, professional, persuasive, etc. For example, if you apply for a senior position, the interviewer will definitely consider if you can give confident pitches or arguments.
3. Comfort
Are you comfortable with this entire environment? Is it easy for you to be present? People who interview dozens of candidates easily read your comfort or discomfort level by analyzing body gestures: how you click the clicker, look at the slides, bite lips, change voice tone, react at the interruption, etc.
4. Construction of presentation
It is more than just an outline structure, and it is about whether the person is going through a cohesive story with all the necessary information and prepared slides. It is about the packaging you must put together from PowerPoint or Google slides, a deck, handouts, etc.
5. Content
It is the biggest key of the whole meeting. Sure, presentations are about introducing yourself, but the insight, information, and sequencing will cover the most time.
6. Compelling
You'll often need to make a persuasive argument for the audience to see it as a good "deal" and you as a profitable "offer" they want to buy. Don't consider it offensive but aren't you selling your expertise and time, right?
To get the offer, you need to know what they want to give something valuable. People make mistakes when they think about their personalities while creating slides. The right approach is to consider the company's needs when compiling skills, adding certifications, and listing advantages. Don't waste anyone's time 🙂
Afterwords
If you consider our tips, you know now how to give a good interview presentation. It is all about focusing on the company's current needs or challenges. If you use this perspective, you'll look like a more valuable candidate interested in the vacancy and able to propose solutions to real problems and ways to achieve current goals. Companies will never kick off individuals who know their strengths, communicate confidently, and show sincere interest in the company.