How to make a successful webinar using a presentation
December 10, 2022
|
5 min read
If you're performing a webinar, it's all about closing the sale. And that's what webinars with PowerPoint are all about. So what is a webinar presentation? Webinar ppt presentation is a 1-1.5 hour compilation of slides as your assistant when selling B to B or B to C. If you want to sell something on the Internet, a webinar with a business PowerPoint presentation is a fantastic way for a sales pitch.
Wondering how to do a webinar presentation? Check out this article to find out what makes a good webinar presentation right here, right now.
Spoiler: we'll talk about a perfect formula of 8 sections for effective webinar presentations.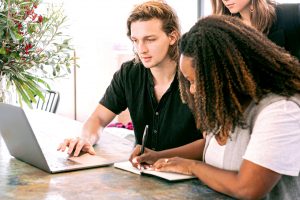 How to Create a Webinar Presentation?
It takes planning and forethought to create an effective webinar deck. That's why you should follow a specific structure to ensure the proper result.
Title
Before you start to create webinar slides, the first thing you need is a compelling and informative title. It should be about the product you're selling. If you're selling a pointer, you'd say, "How to effectively use a pointer to guide your audience through a 1-hour presentation?". Writing numbers or dates (time constraints) increases the chances of your webinar PowerPoint presentation being noticed.
Pro tip: people are looking for quick results, so don't say they'll get something in 2 years after watching this webinar. It won't work.
Outline
After you cover the title, you want to give your audience an outline of your webinar ppt presentation. If you don't provide them with webinar ideas, they'll be bored. As a result, you're not keeping the audience's attention if they don't know what to expect. Tell what they'll get and watch at the presentation's beginning, middle and end.
Introduction
You need to introduce people to yourself or the company you're representing. Mention results, success story, and shift from income point A to point B. Add pictures, infographics, and tables. Additionally, you'd probably want to overcome people's objections to whatever you're selling. Consequently, when creating a webinar with PowerPoint, you have to bring up those objections within a story format.
Pro tip: tell people how they can do things without (e.g., "you can start earning without technical skills, outside investment, having an audience, social media presence, etc.").
Training
It should be 30 to 45 minutes long. The content of perfect webinar slides must include either tricks/tactics/techniques or tips/mistakes. This part should give serious value and have engaging info.
Transition
It should be 1-2 minutes long at maximum. Even though it's extremely short, it's the pivotal part of your webinar presentation. It's the moment when you go from training to the actual product/service you're selling
Offer
Firstly, underline the discussed info and let them try it alone or with an expert for better and quicker results. Secondly, list all the benefits and show why your product/service is worth their money.
No pressure. No devaluation. No tears to cry.
Closing
It takes 5-10 minutes. Tell them how to speak to you, schedule an appointment, or buy your product directly.
Questions
If you did everything correctly, you overcame every question that people would be asking at this point. Every question should have already come up earlier. And you should have addressed it multiple times.
Pro tip: remember to keep content to a minimum and always prepare notes for the Q&A.
3 Webinar Presentation Tips for Free and Easy Slides
1. Use Canva
It's one of the best graphic design tools for non-designers. Canva is going to ensure your slides look incredibly professional. After you sign up, search for a presentation and select among dozens of attractive templates. After that, simply choose and customize PowerPoint with your information.
If you require professional slides from an experienced designer, never hesitate to contact a pitch deck service to get high-quality assistance.
2. Use Google Slides
You probably have a Google account, so use its full potential. Google provides many templates to find the best fit for your content. You can edit all elements in the slides by clicking them directly or choosing the necessary options in the toolbar. Additionally, you can present it directly from your Google Slides document if you plan to host your webinar through Zoom.
3. Use Visme
Using Visme, you can easily import the created slides into PowerPoint or Keynote. The most significant difference between Visme and PowerPoint is that PowerPoint has 24 basic layouts. Visme supplies you with over 1,000 custom templates and thousands of slides in multiple bright themes.
Summing up
Today, we shared with you the webinar presentation best practices. We included webinar presentation design secrets and tools to create the perfect webinar from start to finish and convert your audience successfully. Remember, a correct webinar presentation with a sales funnel (if required) will boost your webinar sign-up rate, increase the number of live visitors and skyrocket your sales.