Slidepeak
/
Blog
/
How to prepare to a Zoom virtual presentation: quick tutorial and recommendations
How to prepare to a Zoom virtual presentation: quick tutorial and recommendations
April 20, 2022
|
5 min read
What is a Virtual Presentation?
Virtual presentations might be torture. Yes, the audience is already tired of video calls: you can hardly see them, everybody's on mute, and everybody waves in sad silence, waiting till the Zoom online presentation is over.
In the new reality, virtual PowerPoint presentations are necessary to organize teams, present the company to new clients, give pitches to new investors, etc. To win this race, you should master the Zoom presentation development if it belongs to your duties. If you lack time, it's always better to contact a professional presentation design service to concentrate on more specialized tasks.
In this material, we encourage you, explain virtual presentation peculiarities, and give tips for presenting on Zoom successfully.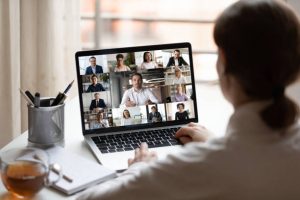 How to Present a PowerPoint on Zoom?
Speaking the truth, people have low expectations regarding online presentations. It is to encourage you because it means there is a large window of opportunity to shine in the online presentation world. Indeed, it is easier to impress people who expect little. Therefore, presenting Google slides on Zoom can even become your favorite activity.
Be Confident in Your Speaking
When you can bring confidence and energy to your Zoom virtual presentation, it's half the battle. To win it, you should speak enthusiastically, so choose a topic that drives you. Dry topics will exist but always try to select or transform them into something engaging, thrilling, or provocative, giving 110% of your energy.
PRO TIP: using hand gestures to communicate will help move around all extra energy from nerves. Also, acknowledge your nerves to the audience in an unalarming way. When you name a feeling, it loses control over you.
Preparing Before Presenting
What makes an online presentation so nerve-wracking? Yes, technology. So treacherous and unexpected. It means you should practice both your speech and the technical setup.
Our recommendations include the next:
Run your presentation 3 to 5 times to get acquainted with all Zoom features and buttons.
Practice it conversationally, and don't read your word for word of your notes.
Do not write your notes in full long sentences; people see when you read them 🙂
Create notes in bullet points to find the necessary points quicker.
Practice speaking into the lens of your webcam, namely into people's eyes.
Do a technology test run: sound quality, lightning, and background.
And remember that nobody will punish you if you forget the word or take some time to calm down before speaking on Google Slides Zoom. We all are people who relate easily, so the only thing you can do to minimize the human factor is PRACTICE, PRACTICE, and PRACTICE.
4 Useful Zoom Presentation Tips for Virtual Presentations
A winning virtual presentation setup requires some life hacks. Many users need to catch up on functional Zoom possibilities, but effort and planning can drastically change your presentation. The following virtual presentation tips will elevate your Zoom presentation from a simple speech to professional artwork.
1. Use Stream Deck
The first virtual presentation tip on Zoom is to create real magic for a big audience. You can use the stream deck to switch between as many cameras as possible. Stream deck helps to 'be on stage' while holding:
Seminars.
Zoom for large groups.
Virtual keynote.
There are technical details to set it up, but the stream deck helps you create more than 'sharing a screen' with your PowerPoint in Zoom.
You can program any video, picture, or graphic to pop up whenever necessary.
You can easily illustrate important points or bring up some talking points you need to text on the screen.
Zoom can automatically take out the green screen for you, and no extra extensions are required.
Using the stream deck is simple but amazing to take your visual presentation to a new level.
2. Add a Camera Box
Do not leave the audience with static slides while talking. You have to share a full screen, but we advise you to add an image of yourself to keep in contact and remain engaging. Thus, the camera box helps to talk through slides and control how much you want to interact with the audience.
The most popular combination is the 50/50 look, with a graphic background filling the space. Indeed, it engages your audience directly while giving your slideshow.
3. Avoid Animation
Animation works well with regular PowerPoint presentations. You get the workaround if you want to design your Google slides differently.
For example, you can piece them out. It means you break them out slide by slide. Create separate slides for each individual 'look' if you want some animation effect. Basically, you create more slides instead of one slide with all the animations, which doesn't work properly in Zoom.
4. Think About Your Environment
The setting you are in matters. When delivering an online presentation, think about your background. You don't want anything too distracting, so avoid places like the kitchen with all the kitchen crap behind you. You want something plain that looks professional.
For example, you can use standard backdrops available and affordable on Amazon. If you're going to be doing more online presentations, you should consider this a worthy investment.
Besides, think about how quiet the area is. In some circumstances, you can turn off the camera, but don't google how to give a virtual presentation. The presentation is pointless if people cannot hear you clearly.
Close windows, turn the light on, and concentrate on slides!
Conclusion
In today's circumstances, Zoom presentations have become the only way we can communicate our plans and ideas to each other visually. So, it's better to get accustomed quickly and impress with the hacks and recommendations we gave you today. If it's not enough, and you still have a "How to do a presentation on Zoom?" question, contact our service to get a consultation and PowerPoint presentation design that will stand you out.