Informal vs formal presentation (plus tips on creating and delivering both)
May 15, 2023
|
6 min read
To give a successful presentation, whether in front of a client, student, colleague, or stranger audience or virtually, you must understand the difference between formal and informal presentation. This article will help you learn just that and provide information on delivering powerful presentations in both styles to effectively promote your skills and make your audience more receptive to your message. So, let's dive in!
What is a formal presentation?
Your audience, supporting materials, and the amount of time you have to prepare in advance are the main elements that define a presentation as formal.
A presentation is considered formal when you are requested to share your thoughts with a person or group and given the opportunity to prepare. This type of presentation requires a totally different approach than presenting to your team during an informal discussion or weekly meeting.
Formal presentations often take place in an academic or professional setting and adhere to a specific set of guidelines. They can be delivered orally or via video chat, which enables participants to connect from different locations and meet on screen so they can see each other while speaking without having anybody else around to listen.
The different types of formal presentations include:
Persuasive
Informative
Demonstrative
Inspirational
Now that you know the formal presentation definition and its types, let's examine how to create one in more detail.
How to make a formal presentation?
Crafting an excellent formal presentation that surpasses your audience's expectations is an art that requires countless hours of practice to master.
Here at SlidePeak, we understand that a properly delivered formal speech can make a huge difference in how effectively someone expresses their thoughts. That's why we've created this simple guide that will educate you on how to make your formal presentation PowerPoint the best it can be and help you prevent typical rookie mistakes.
What to include in the formal presentation:
A clear introduction that captures the audience's attention.
A well-organized body that presents your research and supporting evidence.
A brief conclusion that summarizes your main idea.
What is the voice of the formal presentation?
Typically, the voice of a formal presentation is strong, authoritative, and appealing. Such a voice is crucial when presenting or speaking to a large audience. This comes from your ability to make your voice resonate since a resonant voice is more pleasing and can make you sound more confident. Speaking softly or mumbling, on the contrary, might give the impression that you are uncertain and undermine the strength of your presentation.
Tips for creating a formal presentation:
Clearly define your goals.
Get to know your audience and prepare a presentation accordingly.
Ensure the topic you choose is suitable for the audience.
Conduct in-depth research and collect reliable data.
Craft a detailed outline that will guide the presentation's flow.
Include questions for audience interaction.
Choose a professional presentation format, such as Keynote or PowerPoint.
Add visual aids (e.g., slides, videos, images) to support your presentation and increase audience engagement.
Don't know where to start? Check this formal presentation example or enlist the help of PowerPoint presentation services to save time and ensure your ideas are presented in an appealing way that combines aesthetics alongside content.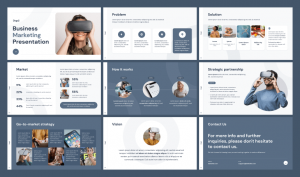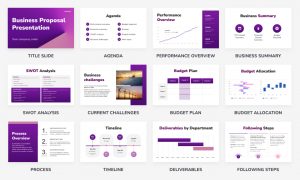 Tips for delivering a formal presentation in person
When giving a formal presentation, there are also a few things to consider:
Ensure you are well prepared.
Speak slowly and try to be as clear as possible.
Look your audience in the eyes when speaking.
Use formal language.
Dress appropriately, as first impressions are everything.
Tips for delivering a formal presentation virtually
If you are going to give an online presentation, make sure to consider the below tips in addition to the ones above.
Choose a background that looks professional.
Test your video and audio settings beforehand.
So, what is the difference between a formal and informal presentation? Read on to find out what an informal presentation is, what makes it different from a formal one, and how to give one like a pro.
Informal presentation definition
Informal presentations, also known as impromptu presentations, can be presented in a variety of settings. They have the same structure as formal ones but are less formal. This type of presentation can be delivered in person or virtually via video chat and frequently has a more conversational tone.
An informal presentation is pretty common for business meetings and is typically prepared quickly, without much organization. It's more like a conversation where everyone feels like they're being spoken to directly by the presenter rather than watching the presenter talk to an audience from behind slides. This makes it a fantastic way to engage the audience. And unlike a formal, lecture-like presentation with a few questions at the end, informal presentations are often followed by vivid discussions.
Tips for creating informal presentations:
Understand the purpose of your presentation.
Pick a topic that is suitable for the setting and audience.
Conduct research, but don't try to compile as much data as for a formal presentation.
Make an outline, but it doesn't have to be as thorough as one for a presentation in a formal setting. Instead, hit what's important.
Choose an appropriate presentation format, such as a PowerPoint or whiteboard.
Consider a hand-out (in case of an in-person presentation).
Here are some excellent informal presentation examples to get you started: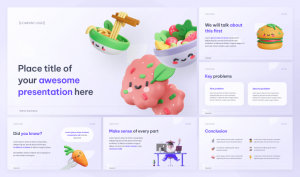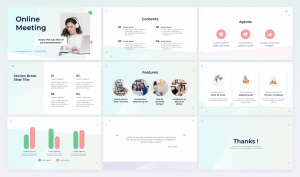 Pro tip: If you have an outdated presentation on a similar topic or one with a similar structure but on a different topic, you can opt for a PPT redesign service and have it revamped while you practice your presentation or indulge in other important activities.
How to give an informal presentation?
There are a few things to remember when delivering informal presentations, and they are as follows:
Ensure you are adequately prepared.
Keep eye contact with the audience.
Stick to a conversational, positive, and optimistic tone.
Don't mumble; speak slowly and try to be as clear as possible.
Interact with your audience: ask questions and allow feedback.
Insert on-purpose jokes every now and then (if suitable for the audience).
Make sure to test your audio and video settings (in case of a virtual presentation).
Wrapping up
Both formal and informal presentations have their benefits. However, it's crucial to take your particular situation into account to choose the most appropriate style, as formal presentations are more acceptable in a professional setting, while informal ones work better if there is no formality requirement (e.g., team discussion, conference, weekly meeting).
"But what is the secret to delivering powerful presentations in both styles?" you might ask. The answer is pretty straightforward: when you're putting together your presentation, always ensure that your organization and research abilities work in harmony and find time to practice. Remember, practice makes perfect, and passion persuades. Polished presenting skills provide payoffs. Speak slowly and clearly, look your audience in the eyes, and give them something to talk about when your speech is over.
For assistance with the presentation design part, you can always count on slidepeak.com. Our dedicated team is at your service 24/7!