KPI presentation: guide for manager that will knock 'em dead
December 3, 2021
|
3 min read
The way you show your accomplishments makes or breaks your career. If you're on the executive track, it means the stakes are in the millions. Have you ever wondered why people just cram KPIs on the slide and hope for the best? For most people, a KPI presentation is presenting metrics by dumping numbers on a PowerPoint slide or outsourcing this task to a professional presentation design service.
Mistakes in KPI Presentation
If you want to create a company's KPI presentation, ask yourself "what do you as a presenter want the audience to look at?". We will not go deep into the design theory but make sure you avoid making the following mistakes in your KPI PowerPoint presentation.
1. No Hierarchy
All the objects and text should not be too similar in font size, style, and color. Make sure the most important metrics stand out as a clear object. The randomness is confusing for the viewer.
2. Proximity is a Problem
It is not only about everything being too crowded. It also means that you should group items clearly and logically in meaningful ways. It's hard to know what's related when you do not create those connections.
3. No Alignment
Make sure your information on each slide is balanced. Create some visual patterns for numbers to align them. Do not throw on many random images/photos as well.
4. Indirectly Related Material
You definitely don't want to try to explain the whole campaign KPI on the same slide. If you want to present every bit of this info, it is better to create an additional report for your visual aids. Most importantly, your slide has to tell a cohesive story. Follow the 'one per slide' rule to be consistent.
5. Numbers Without Context
Pure metrics are useless. You know what these numbers belong to but not your audience. However, when used correctly, these data points can be powerful weapons in your arsenal.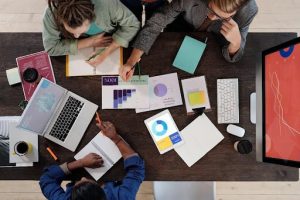 How to Show Your KPIs in PowerPoint Presentation the Right Why
1. Start with One Message
When you're presenting KPIs, do not start by opening your PPT. Instead, ask yourself – what is the one message I want my audience to take away from this? The answer has to fit into a concise sentence that covers your objective, metrics, results, and $ impact.
2. Expand to Full Story
Here, you provide a brief overview of the campaign, show the most impactful results, and show how those created a sales boost.
3. Rehearse
Once you've written a story, read it out loud several times. If it doesn't make sense or sound like your voice – change it. Read it to a colleague or friend, get their feedback, and change it again.
4. Add Visual Aids
Once you're satisfied with the full story, it's time to open your slide program and send content to a custom presentation designer you've hired.
Now, let me ask you the same question from the article beginning – what do you as a presenter want the audience to look at? If you get this one wrong, read the article again. If you get this one right, you know now how to be clear, succinct, and powerful with your numbers.