Slidepeak
/
Blog
/
Quarterly business review: how to write and how to present it via presentation tools
Quarterly business review: how to write and how to present it via presentation tools
A quarterly business review (QBR) is a quarterly report created for key executives/stakeholders or your highest-earning customers about the company's strategy, successful contribution, and gained value. It's quite a specific presentation that can prevent a company's churn if done properly.
Custom presentation design ensures winning the general report view with slides that attract. Effective QBR presentation helps you to:
sell them more;
increase your DRR (disaster risk reduction);
accelerate your growth.
In this material, we want to walk you through QBR's explanation and best practices to turn your QBR from boring to brilliant. Then, you can level up the way you present it to your key stakeholders and most loyal customers.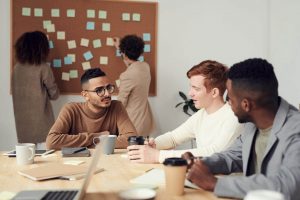 What is a QBR in Business?
First of all, it is a thing that none actually looks forward to doing. It is not something that evokes excitement if you approach it the wrong way. HOWEVER, if you do QBR the right way, it can completely transform your business.
The quarterly business report is about establishing a proper playbook for renewing your business revenue and making sure your customers remain successful.
Having all figures in front of your eyes improves strategy sessions or meetings where you gather together to review the impact of your product or service, e.g., the contribution made, value delivered, etc.
It becomes easier to scale your business when you know its ups and downs, pros and cons, so you manage them better and help grow, creating the most favorable conditions.
Thus, you get total control over all processes and develop more winning strategies.
Quarterly Business Review Best Practices: 3 Principles to Follow
If you follow these three principles, they will ACCELERATE your business growth and transform your QBR into a more brilliant report:
0. Reframe Your QBR
You can continue calling them if you want, but, e.g., Quarterly strategy sessions sound cooler, right? It is no more boring numbers review but an engaging meeting with new energy, brainstorming, and future goals.
Besides, you can take care of PowerPoint redesign to match transformed QBR with the appropriate quarterly report design. The rebranding perspective will get people excited that the big thing will come.
1. Actions Taken → Business ROI
If you want to get the most out of this meeting, you should create something more than a to-do list. Your QBR slides must shine bright with the value. For example, you looked at last quarter, you took specific actions, and here's the clear business ROI that you delivered.
We advise creating a couple of informative slides with a list of actions taken vs. business ROI. If you can write it so for the customers, you will always earn more.
2. Introducing the "X" Score
For example, the tout score measures how effectively you use the platform between zero and a hundred. If you're doing 90, you're obviously crushing it. So, you should make up the score to measure your/customer's business gainings.
Then, you need to communicate this score through the set of slides:
Things you're doing well.
Benchmark to compare to competitors.
Opportunities to grow and increase the score.
As a result, you show executives or clients whether they are below and above to see the real conditions and circumstances better. You offer the corrective measures to take and unlock opportunities to enlarge the business successfully.
3. Have a Roadmap Slide
Frequently, CSMs forgot to add a roadmap slide to the QBR PowerPoint presentation, or they couldn't quite drive alignment with the product. Meanwhile, you put the cherry on top by saying and showing where you're going. The point is to demonstrate bigger opportunities coming down in the roadmap.
Having a roadmap slide, you ensure you'll be the best in the business, and you will innovate the most to show that you're a long-term partner.
Quarterly Business Review Presentation Tools
To create all necessary slides, you either believe in yourself or order professional design services. If you choose the first option, you should know that the presentation world is wider than PowerPoint.
You can use these presentation tools to create visual slides with different elements like a roadmap or charts:
Canva (to experiment with design);
Visme (vast storage of colors, logos, and images);
Powtoon (bright animation to create videos);
Haiku Deck (basic and craft simple slides);
Keynote (interactive charts);
Emaze (slideshow, 3D presentations);
SlideCamp (best slide templates);
SlideDog (switch easily between, e.g., PowerPoint, Canva, and PDF).
These tools are multiple on the web, so you'll quickly find other ones. Remember that the whole point is not only in the tools' usage but the presentation content structure.
Do I Even Need a Quarterly Business Report?
Last but not least, let's shortly reflect on whether you need this report at all. And whether you need to invest so much effort in creating the presentation for your business.
Do you always analyze previous results, both successful and unsuccessful?
Do you have growth targets to rely on?
Do you know how to hit these goals and targets?
Do you identify business opportunities easily?
Do you have and follow the agenda efficiently?
Do you organize successful brainstorming strategies?
Do you know how many clients you got in the previous quarter?
Do you gain new partners easily?
Do you know where you are going?
Do you have a strategy/action plan for at least one next year (better three)?
If you struggle to answer Yes/No clearly to at least 3 of those questions, we recommend creating QBR to see blind spots clearer.
Conclusion
Most QBRs are boring meetings with many numbers reviewed. However, you add new energy if you follow our pieces of advice. So, you follow three powerful steps: you show what you/they have done really well, explain how cool you/they are (what is the score), and finally express where you/they are going. This approach will make your clients and executives love you for making things more actionable for everyone in the room, excitement about the future, and overall clarity of company vision.