Promotion presentation: what it is and how to create one
April 25, 2023
|
7 min read
If you've been with a company for a long time, have taken on more responsibility, or have produced outstanding results, you may be eligible for a promotion. However, getting one is a challenging task. You would have to convince your corporate leadership of your worth and demonstrate how you can benefit the organization. And the most effective way to communicate that information is through delivering a well-organized presentation for promotion.
In this article, we will explain what a presentation for job promotion is and share the steps needed to prepare an effective one so you can boost your chances of getting a raise and promotion.
First, let's start with the basics.
What's a promotion presentation?
A promotion presentation is a way for an employee to demonstrate to their employer visually and orally why they deserve a higher position within the organization. This type of presentation aims to impress, inform, and persuade the audience, which may include either the employee's manager or a wider audience comprised of executives, stakeholders, and other decision-makers. There are several ways to give a presentation for promotion, but the most effective is the one employing slides. Speeches and demonstrations are two other less effective delivery methods.
Now that you know what a presentation for promotion is, let's move on to the most important part: the steps you should follow to prepare one.
How to make a presentation for a promotion?
Our first and foremost recommendation for promotion presentation is to plan what you will say and prepare credible supporting evidence proving that you are hardworking and valuable to the organization so your presentation is well-thought-out and compelling. Remember, being well-prepared makes you more comfortable and confident during the presentation.
These are the steps to take to prepare for your presentation:
1. Identify the best-suited position
Draft a job description for the desired position. It might be a position the organization has available or a new role. If you're presenting for a promotion to a new role, clearly define your responsibilities. Show how it fits into the department's organizational structure, who you should report to, and with whom you would collaborate closely. Ensure the position is advantageous to the organization. You can also use this material to demonstrate your qualifications for the promotion as well as your professional objectives.
2. Gather supporting information
Make a list of the reasons why you should be promoted, note down all your accomplishments, and make sure to include the following:
Awards & achievements
Customer or coworker testimonials
Acquired responsibilities
Problems solved
Skills developed
Performance appraisals
Overall experience
Hard and soft skills, etc.
When gathering data, find percentages, figures, and facts that illustrate your growth and direct contributions to the organization. Note down the dates of your achievements as well. Include all of this material in a single document you can use as a reference when creating your presentation. You will also need to choose which items on your list will have the most impact and are more valuable to the organization and which ones you can skip.
3. Define your goal
By the end of the presentation, your goal is to persuade your employer that you best fit the position and deserve a promotion. Compose one powerful statement you can give after outlining your accomplishments and qualifications. It can include a summary of accomplishments and what your employer might anticipate if they decide to promote you.
4. Choose a format for your presentation
Identify the presentation type that will best communicate what you want to say. Many experts give preference to a PowerPoint job promotion presentation, and here's why:
The visual representation of the material facilitates effective communication with the audience.
It can be used virtually anywhere, including during an online meeting.
It allows inserting multimedia formats like images and videos that help communicate information clearly and in an engaging way.
You can personalize it to your unique style.
Alternative presentation formats include multimedia, video, whiteboard, handouts, speech, or a combination of several formats.
Remember, the presentation format greatly depends on the role you're trying to get, the data you want to share, and your style of communication. For example, a creative department employee might include lots of unique visuals on slides or base the entire presentation on visuals only. A salesperson, on the contrary, might use a promotion presentation template that allows sharing of stats and charts. Other professionals might use a combination of text and visuals to ensure optimum engagement.
Here is a good promotion presentation example to follow: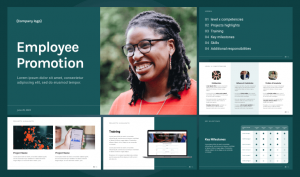 5. Organize the talking points
Identify the main points of your promotion interview presentation ppt and the chronological sequence in which you want to present them. Each talking point should be brief and clear as you go from one topic to another. Here's an excellent example of a presentation's structure:
Agenda
A short bio
Your education and qualifications
Employment history within the company
Your long-term mission, goals & career objectives
Completed tasks and projects you took part in
Contributions to the team and contributions
Strengths, including how you intend to acquire new skills in a new position
Reasons why you deserve a promotion
Q&A section
Pro tip: Keep your slides or sections to a maximum of ten to hold your employer's attention.
6. Include visuals
Where possible, substitute words with visuals to create a memorable and attention-grabbing presentation. For instance, use a chart or graph to demonstrate to your employer how much the sales have increased. Include a screenshot of the company's website if you redesigned it. Use typefaces and graphics that are easy for your audience to read, and make sure to add color to your presentation.
Pro tip: If presentation design is not your thing, you can save the struggle and enlist the services of a professional PowerPoint and Google Slides design agency like slidepeak.com. Our dedicated team can tailor a compelling presentation for promotion at job ppt to your needs fast and at an affordable price so you can stay focused on polishing your message.
7. Practice as much as you can
Once you're done with your promotion PowerPoint Presentation, practice it as often as needed to feel at ease and confident. As you rehearse, speak in an optimistic tone so that it comes naturally when you deliver the presentation. Try to appear excited about your future with the organization to inspire the employer. Time yourself and know for sure where you ought to be in your presentation at five, ten, and fifteen minutes. Also, try to limit your presentation to 20 minutes to keep your employer engaged.
8. Schedule a meeting
Last but not least, schedule a meeting to present to your manager, and let them know how long the presentation might last. Inform them of the reason for the meeting so they are not surprised and are more likely to consider your request for a promotion. For instance, say, "I'd like to set up a meeting to discuss my position at the company and my career progression." Ask them to invite other decision-makers to the meeting as well.
Wrapping up
Creating a presentation for promotion is not easy, but it pays off in the end. It means going outside your comfort zone and working harder to enjoy the gain later.
If you are hesitating to take the first step, don't worry. Send SlidePeak your "do my presentation" request instead. Our dedicated team will be on hand to cater to your every need, ensuring you enjoy a hassle-free promotion presentation design process and are getting one step closer to achieving your career goals!