How to create an effective sales plan: components and tips
October 31, 2022
|
11 min read
Any business involves sales, and forecasting and planning are some of the major sales activities for a sales team. In this article, you will learn what a sales plan is and how to create an effective one. We will also discuss some sales plan examples.
What's Sales Plan and Why Do You Need It?
A sales plan is just a part of an extensive sales planning process that does not end with writing the document. It is necessary to understand why sales planning should become your regular mode of action. It helps forecast the sales success a business wants to achieve and outlines a plan to help them accomplish its goals.
Here are the reasons why you need an effective sales plan:
It helps foresee risks.
It tracks company goals.
It finds any bottlenecks in the process.
It clears revenue targets to achieve within a specific period.
It helps improve your lead generation efforts.
It unifies labor policies to ensure consistency in the operations.
It provides a deep understanding of the business's strengths and weaknesses.
It tracks progress.
It identifies sale strategies that match the target market.
It helps evaluate the sales team's performance.
It defines each salesperson's role and delegates work.
It lays out tactics to execute the sales team's strategies.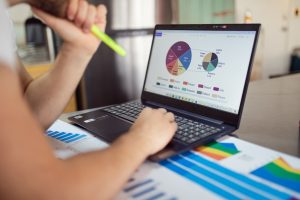 Sales Plan Structure
A sales plan will help you outline critical metrics, KPIs, processes, tools, objectives, and strategies necessary to hit your sales goals.
If it is your first time creating a sales plan, here are the sections you must be familiar of:
Your Target Revenue
In a sales plan, you can set a revenue-based foal like a target of $10,000 in 5 new deals in one month or $150 million in annual recurring revenue. You will need to keep that revenue target achievable.
Here are a few tips for setting your target revenue:
Determine a reasonable sales goal according to prior sales and the ability to reach a new market.
Calculate the anticipated expenses for a specific period.
Use projected sales forecasts based on estimates or industry standards.
Your Ideal Customer Profile and Their Buyer Personas
To establish the target market or ideal customer, you must create a series of unique ideal customer profiles, including geographic, demographic, job position, behavior, and interest information. From there, you can clearly define their buyer personas and develop more targeted marketing and advertising strategies.
Your Sales Team
A sales team plays a vital role in the sales plan. And you have to ensure a clear delegation of roles and responsibilities for the sales manager, customer service representatives, account executive, sales development representative, and other sales professionals.
Plus, there should be smooth communications and handoff. You can consider using a Customer Relations Management (CRM) system to bring visibility and transparency to the sales process for all team members.
Your Resources
Is your team small? Then, it would help if you determined how to expand the team to meet the sales targets. If you have a thinning outbound sales team, the business plan must include how many resources are necessary within a specific period.
You may also use sales tools like hardware, software, and materials for effective sales operation management. The tools your sales team has at their disposal will help them achieve your sales goals.
One of these tools is snov.io. This tool helps scale your small business while engaging better quality leads with your CRM software.
The Security of Your Communications
Effective communication is essential in a sales team as it keeps each member productive, engaged, and informed. It also ensures the following:
Sales representatives spend their time easily finding correspondence with prospects without compromising.
Provides analytics needed to measure engagement with sales goals and benchmarks and determine who is reading them or who is not.
Encourages marketing and sales team to collaborate on projects, message and pitch new customers, and manage content.
Provides guidance on the cadences and channels for delivering information.
Meanwhile, you also need to ensure the security of your communications. This is where you can take advance of dialpad.com, a workspace dedicated to team and customer communications. It is designed for global teams, where they can safely and efficiently communicate through voice, video, AI contact center, or AI sales.
Your Position on the Market
Position on the market is about competition, market trends, risks, and predictions. It outlines what your company must do to market your products and services to your target customers.
Your team will determine the right distribution channels according to the target audience. With a good positioning strategy, you can elevate your sales effort while helping the buyers move product or service knowledge to their purchase.
If you know how your business is positioned in the market, you will have a big picture of how you can establish the identity or image of your brand. It also allows you to achieve superior margins for the product or brand relative to competitors.
Your Prospecting Strategy
Prospecting strategy involves how you will generate qualified leads and what inbound and outbound methods your sales team will use. Your goal here is to create interest and convert it into a sales meeting.
Below are easy ways to start your prospecting strategy:
Build a list that includes who your sales team wants to generate meetings with.
Research your prospects to ensure your new leads are a good fit.
Craft your offer to drive value.
Create a prospecting campaign designed to degenerate meetings with potential buyers and includes a strong value-based offering.
Your Pricing Strategy
Your sales plan's pricing strategy is about determining how you plan to change the price of your product and within what period of time. It will help you choose prices that can maximize your shareholder value and profiles while considering the market and consumer demand.
Pricing strategy accounts for many business factors, such as product attributes, brand positioning, target audience, marketing goals, and revenue goals. It is influenced by external factors, such as economic and market trends, competitor pricing, and consumer demand.
When creating a pricing strategy, consider the following:
Pricing potential evaluation
Buyer personas
Historical data
A balance between business goals and value
Competitor pricing
Your Goals, Objectives, and DRIs
Goals often include one to three- or five-year projections. Your sales goals must reflect your new sales and revenue from recurring or existing customers. Then, you will need to include sales objectives that prioritize the activities your sales team needs to complete.
Assigning directly responsible individuals (DRIs) also helps make a successful strategic sales plan. These individuals are responsible for making sure particular tasks are well-executed. So, you will need to choose team members to be accountable for specific tasks.
Your Action Plan
Part of creating an effective sales plan is defining your action plan. It deals with summarizing your plan to achieve each specific objective. For instance, if your sales goal is to increase your referrals by 20%, your actions would be:
Holding referral technique workshops
Running contest to boost referral sales
Your Budget
In this section, you have to lay out all costs you believe will incur in achieving your sales targets. Some expenses include hiring costs, printing costs, travel, training, sales tools, commissions, salaries, etc. These expenses are meant to be estimates, but due diligence and research should be performed to prevent any financial errors.
Sales Plan Examples
When it comes to creating a sales plan, there is no unified sales plan template. Each sales plan differs based on the company's purpose. While you can encounter different sales plans, here are the common types:
30-60-90-Day Sales Plan
A 30-60-90-day sales plan is milestone-based. This means it specifies a short-term goal you must achieve within 30, 60, or 90 days. This type of sales plan is suitable for new sales managers, helping them to draw up tactical and strategic activities according to this plan.
Territory Sales Plan
A territory sales plan features tactics dedicated to the sales team in different territories. You will need to consider a specific area's market dynamics and working environment.
With a territory sales plan, you can:
Target specific customers, opportunities, regions, and industries
Align the sales team with the prospects
Set realistic goals, optimize the strategies, and track progress
Spend more time selling
When creating this sales plan, you have to:
Define larger sales goals
Define the market
Assess account quality and prospect
Map out the sales representatives' strengths and weaknesses
Assign leads
Improve the plan
Sales Plan for Specific Sales
In this sales plan type, you must familiarize yourself with different sales domains, such as sales training plans or compensation. And you have to:
State the company's mission
Set objectives and timeframe
Define the sales team
Define the target market
Evaluate the resources
Create a comparative analysis with the competitors
Set the sales budget
Define the marketing strategy
Work out the strategy
Define the action plan
Monthly Sales Plan
If you prefer a traditional sales plan, you can opt for a monthly sales plan. It features tactics and revenue goals. And you have to accomplish everything within a month.
Sales Tactics Plan
A sales tactics plan includes execution strategies. It also involves detailed daily or weekly plans, including prescribed call sequences, meeting appointments, and email follow-up frequency.
Tips on How to Create a Sales Plan
Are you looking for effective recommendations on how to compose a sales plan that will make your company fundamental for your sales company? Then, check out the following:
Tip #1: Back Up Your Plan with Research and Statistics
It is advisable to always back up your sales plan with research and statistics. This will help you define the tasks your sales reps need to follow to meet your sales goals.
The tasks you will outline for your sales reps are unique to your sales team and stem from statistics and research.
Tip #2: Use SWOT Analysis to Analyze Your Capacities
From a sales perspective, SWOT (strengths, weaknesses, opportunities, and threats) analysis will help you assess your company's position in the market. It allows you to gain insights on leveraging your selling points and getting more market shares. It also helps you compare your business' position with your competitors.
Meanwhile, you can use a visualizing tool to document the results of your SWOT analysis. You can choose from tools such as flow-chart tools, spreadsheet apps with SWOT analysis templates, mind mapping software, SWOT analysis generator, or online presentation or graphic design tools.
Tip #3: Split Your Sales Plan Into Specific Tactical Plans
You can use specific tactical plans to achieve your sales goals. The details depend on different variables, such as resources and time. You can make a plan for individual areas of sales, such as SDRs, sales enablement, sales operations, and customer success.
As you create a tactical plan, you have to consider the following key elements:
Company mission
Timeline
Objectives
Key performance indicators
Flexibility
Action items
Responsible party
Resources
These key elements will help you identify the plan's success in many ways, like increasing the likelihood of accomplishing your sales plan.
Tip #4: Use Previous Performance Data
You can use previous performance data to build incentive, territory, quota, and sales capacity plans. Using this data as your crucial decision-making tool, your sales team can have a basis for making informed decisions and forecasting performance more efficiently and accurately. In return, your sales plan will likely deliver efficiency, higher performance, and bottom-line growth.
Tip #5: Highlight the Tracking Methods You'll Use
By highlighting your tracking methods, you can get set process workflows, allowing your sales representatives to determine where each prospect stands and which steps they need to take next.
Meanwhile, you can also track the following:
Sale cycle length
Number of closed deals
Conversion rate
Average contract value
Pipeline value by quarter, by month, and by individual and team
Number of unclosed deals after reaching a specific stage
Wrapping Up
A sales plan includes a clear objective, and you can use it as a framework to build targets to find and close paying customers. It outlines your sales strategy on how your company will build a customer base. It also solidifies the tactics you use while assisting the sales budget formulation.
However, no plan can fit all businesses perfectly. So, feel free to create your own tricks on effective sales planning.