Sales presentation ultimate guide
November 30, 2020
|
8 min read
It is essential to be aware of how to pitch your product or service correctly for every business. Therefore, you might need a sales presentation to be organized well. 
Every sales presentation, whether it's a pitch deck slides or a complete sales strategy presentation supposes scrupulous work over it. Meaning, you should explain why your product or service is worthy to a five-year-old kid, for instance. Hence, you should make sure your sales deck is clear, concise, and motivating other people to buy them or invest money in it. 
What are the features of a sales presentation?
Your sales presentation design must be written carefully and portray the story behind the specific product or service. Ensure your presentation is no more than 10 minutes. Your meeting also should not be more than one hour. Time is essential in sales. 
When you invite people to come to your sales presentation, make sure they are decision-makers and are related to the things you are selling. 
Try not to lose the prospect's attention by wrong things. Your sales presentation doesn't have to concentrate too much on your service or your product. Try to showcase to the audience how your service or product will affect their lives positively.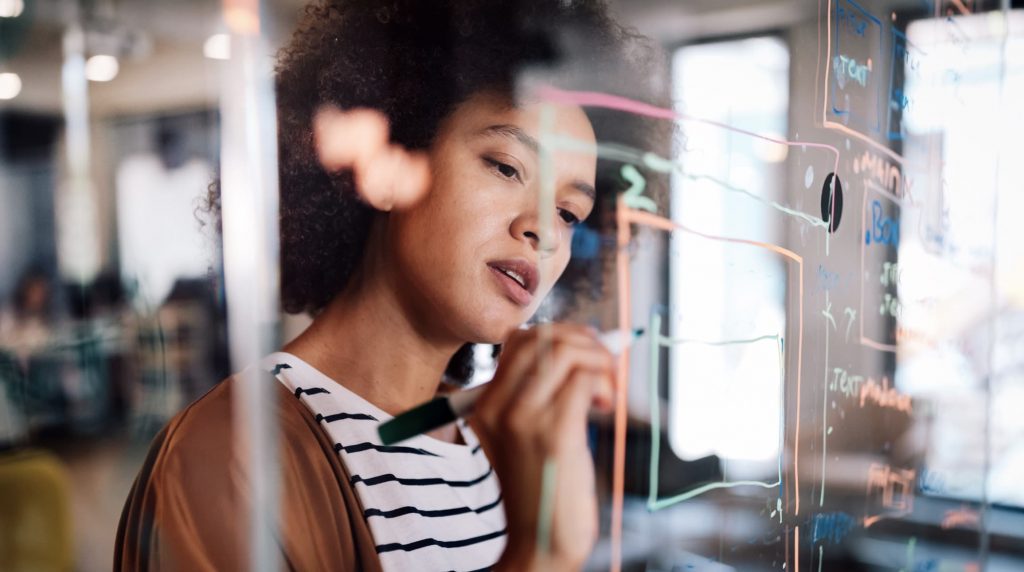 Sales presentation tips
What is the main difference between a sales pitch and a sales presentation?
Sales pitch and sales presentation are two different things. To be more precise, a sales pitch is the information you present to your target consumer tet-a-tet every day in person or by phone. The sales presentation is a sophisticated pitch version that supposes to have a meeting. Crafting your sales presentation, you should spend more time. 
Storytelling and sales presentation
People like exciting stories related to their daily life and issues. You should also use as many figures, facts, and statistics as to sell your product to the audience. They would listen to your sales presentation more attentively if you can create a story that offers a solution to their daily problems. In fact, people tend to remember stories more than some facts. They may persuade, teach, and motivate people. You should weave the story in the context of your sales presentation design service to succeed. 
Sales presentation outline
Introduce yourself. Say a few words about your company, mentioning your activities and mission. Make sure you grab the audience's attention with a great opening slide or cover image.  

Define the problem. Identify the main issue that your company faces nowadays. Provide your audience with some statistics. 

Suggestions. In other words, build a bridge between your services or product and your audience. Customize your sales presentation for every single meeting. In other words, make sure it is personalized. 

Add social proof. Include some social proof in your sales presentation. For instance, you might add quotes, graphs, charts, or other data to support your sales presentation. However, you must not repeat the things you say there. You might also utilize testimonials of different clients. 

Add CTA. Include clear and brief call-to-action. Offer a few next steps for your potential prospects. 

Use graphics. Make sure they are simple. Do not overwhelm your sales presentation with too much data, but use more visuals. 
The product
Demonstrate how your service or product operates in action. Create a perfect environment to showcase how the product works if it is a physical one. Utilize technology if it is a digital product. For instance, you might ask your prospects to download the app. In some cases, you might use video as a demo. You can also ask SlidePeak for help with more sales presentation ideas.
Handouts
 Hand out some materials to your audience. For instance, it might be a QR code or contact data. The information must be to the point and straightforward. Distribute the handouts once the sales presentation is over. 
Your team
Visit a sales presentation with a few salespersons. Practice a lot before you begin to present your project. Come earlier to make sure everything works well. Decide who will say during the presentation some information and who will do certain things to help you.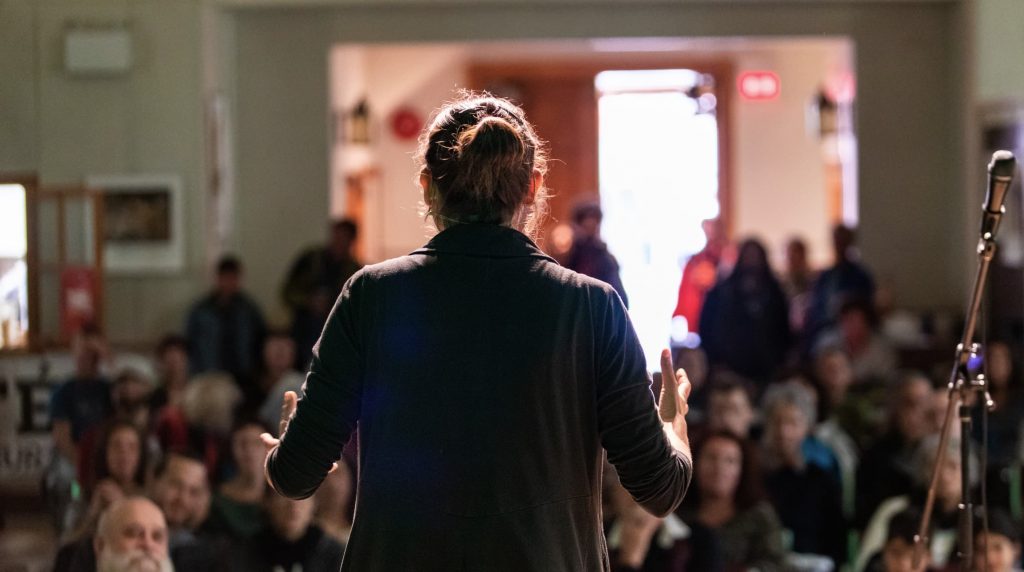 Sales presentation tips: How to create your sales presentation?
Sync 
Your main points must be synchronized to your sales deck. Test the rhythm of the slide. When you present statistics, you should speak slowly. Emphasize your tone of voice when you are talking about pain points. Express relief when you showcase how your company wants to tackle specific issues. Make sure all the questions you ask your audience have straightforward answers or are rhetorical. 
Avoid using technical slang
Use general terms that are clear to every member of your audience in the sales presentation. Do not use slang words. Most of the people in the room might not have a clue about the things you say, so the more simple the lexicon is, the better it is. 
Stand out
Try to demonstrate how you differ from your competitors. However, you should not repeat them too many times. Tell about the main differences slowly. Mention how your product or service will make the lives of other people more comfortable. In other words, highlight the value of them. 
Practice body language 
Your body language must be confident during the presentation. Improve your body language by maintaining eye contact, standing up straight, chin up, and having a firm handshake. It will prove to people that you are interested in communicating with them. 
Be funny
Use your sense of humor. For instance, you might play jokes, but you would better not force them. Keep in touch with your prospects by telling funny stories. Make sure everyone is comfortable and relaxed in the room. 
Highlight your expertise
Do not talk too much about your company. You should focus your sales presentation on the field of your expertise instead. For instance, you might demonstrate a slide with logos of the companies that have already invested money in your brand. 
Offer solutions
Emphasize your strong points and tell how your product or service will better your prospects' lives. Do not focus too much on the pain points. Make sure your presentation is personal and describe all the benefits they will get. You might also mention the names of people in the room to make them feel valued. 
Give research
Add internal and external types of research to your sales presentation. You might use statistics or graphs and cut the information into brief pieces for your brand to get more authority. Add relevant numbers and examples to demonstrate how you help previous clients. 
Showcase the return on their investment
Tell how your company will master productivity, multiply market share, make more money, eliminate costs, and boost sales. In other words, you should show the results of investments both long- and short-term. Demonstrate how your financial goals will be reached. 
Rehearse
If you rehearse before a presentation, it will boost your confidence and help you smooth rough spots. You will also get to know the approximate amount of time you need to spend on your presentation. You might even record yourself on the video and watch it to adjust some corrections. 
Talk directly to your audience
Do not speak just to your slides. Utilize the slides to emphasize the things you say. If you fail to do it, your presentation will be boring. Try to engage every member of the audience. Express yourself by using your hands. For instance, you might ask them to raise their hands if they agree to some of the points. 
Add a clear call to action
Describe the further steps for your audience to do. Make sure CTA is your last slide. Add your contact data using the present-tense language. Do not go deeply into tiny details. Know when it is the right time to stop.   
What to do at the end of the sales presentation?
In some cases, your prospects might ask you questions in the middle of the presentation and when it is over. Stop the presentation and answer their questions as they appear. They must be sure that you take them seriously. Motivate them to share their concerns and ideas. In the aftermath, you might offer to send a proposal, have a meeting, or give a product's trial. Clarify all the next steps.  
You might offer some discount or other incentive to motivate the audience and create a sense of urgency. The main target is to make the audience involved and active. Note that every solid sales presentation requires a lot of practice. You might utilize these examples and tips to craft your sales presentation correctly. Use various approaches to design the best sales presentation and be as creative as possible as long as there are many competitors on your way to success. 
How to craft the best sales presentation if I have no time?
Every business requires a lot of hard work. Sometimes you might not have enough time to produce a reliable sales presentation. Therefore, we are here to assist you with it. If you still doubt whether you can compose an excellent sales presentation, you would better use our service. We can help you create the most prominent and outstanding sales presentation to draw the attention of your potential prospects fast.