Difference between business plan and pitch deck: 2022 ultimate guide
July 8, 2022
|
4 min read
Depending on your business type or current project, you may hesitate between a pitch deck vs. a business plan, sometimes the million-dollar question. The answer depends on what stage you are at within your business. For example, you're expanding your business, looking for finance, and willing to demonstrate a solid PowerPoint presentation. Should you start with a pitch deck over a business plan or vice versa?
Keep reading to discover the difference between a business plan and a pitch deck and design or order the most suitable one.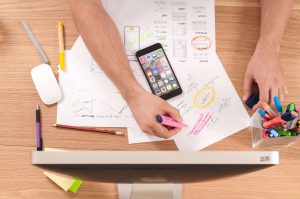 Use a Business Plan When…
Suppose you have an excellent idea for your business. And you wonder where to start: business plan or pitch deck? The best way to determine whether you're right or wrong is to write a detailed business plan (10-100 pages text document). If your business idea is feasible and you're looking for equity, move on to a pitch deck.
So, you USE a BUSINESS PLAN WHEN you have a raw idea and need more estimations to see if it's possible to realize. As soon as you develop an in-depth strategy, you move to the pitch deck to present this idea to an audience, generally investors.
Use a Pitch Deck When…
A pitch deck is a brief (15-20 slides) presentation that you use to display your idea to potential funders as a concise overview of your business plan. Here, you should "draw" the information from your business plan into a pitch deck using PowerPoint animation and infographics.
So, you USE PITCH DECK WHEN you need to gain the initial interest of your investors in your business idea with attractive PowerPoint slides. If they got impressed and curious, they would ask for details, and it's high time for your business plan document.
The Business Plan Is…
In the business plan vs. pitch deck dilemma, let's define both of them and start with the business plan's main characteristics:
The business plan is a text document that covers your business purposes, the methods to achieve them, and the timeframe in which you will accomplish those goals.
Creating a business plan clarifies your company vision and adds structure to your business management.
You have to refer back to your business plan from time to time to make sure you're on track and stay focused on the planned path.
If you want to pitch your business plan to the bank to get finance, they'll also require a business plan for loan applications being investors in this case too.
Business plan size depends on your company size; e.g., a corporate business plan for a large organization can be hundreds of pages long.
The business plan must be realistic despite how crazy your idea is. Don't lie to yourself 🙂
As you can see, the business plan is about asking yourself hard questions and being 100% certain of your answers and intentions before you proceed to pitch deck design.
The Pitch Deck Is…
On the other hand, we have a pitch deck that is a highly visual presentation of your business idea. If you started with your business plan as we advised, you would have all the essential content you need to populate your pitch deck presentation.
Indeed, it is a problem for many to find a way to shorten their message to no more than 30 words on a slide and max. 25 slides. If you burn with your idea, it is naturally challenging to be concise, but keeping your audience engaged while informed is crucial. Use charts to shorten data, bullet points to avoid sheets of text, and animation to make attractive transitions and keep the audience's attention.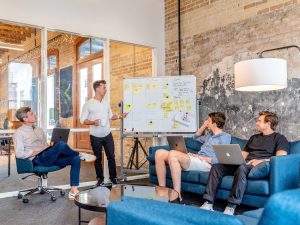 So, Which Is More Important: a Business Plan or Pitch Deck?
Whether you go with a pitch deck or a business plan, it is vital to make sure they look professional and visually appealing. A business plan is a Word document, and a pitch deck is a PowerPoint presentation. They must look good and complement each other if you want to attract such desirable investments.
And none of them is less important: it is all about the right time and place. The business plan is developed first and is an in-depth formal text-based document. You don't need to present it to investors as they won't have time for this. The pitch deck is developed second and delivered face-to-face to get investors to ask for more information, namely your business plan document. And that's all the difference!