What does corporate presentation template mean for your business brand?
June 1, 2022
|
4 min read
What does a corporate presentation template mean for your business brand presentations? You can send it to potential clients, hook them, or even get signed off the first time. The problem is brand design presentation rarely displays memorable moments that make your brand recognized later.
How do you do a brand presentation to get distinguished? Develop a template with specific corporate presentation designs and use them whenever you present. You can do it yourself with the tools mentioned below or address the professional presentation design agency.
Let's decompose all elements of corporate branding presentation for a superb brand view.
What is a Brand Presentation?
A branding presentation is a way to present your company's design style on slides. It includes color, fonts, logos, images, or even lines that help you stand out and be identified quickly. This presentation helps the client to understand the direction of your branding and get a feel for a proposed brand.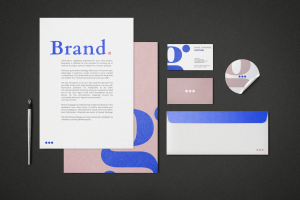 How Does Brand Presentation Impact Your Company Image?
Before you go to design, you develop some strategies for brand strategy presentation. And one of your strategy's goals would be to become a top player and create a brand that drives. Competition is high, so you must distinguish by all possible means.
Brand or corporate presentation template is one of the ways to be easier memorized by stakeholders and clients whenever and whatever you present. You should always use the same corporate presentation design: color, fonts, logos, etc.
What's the point? Your product or service purchase rate depends on the number of "touches" with your product or service. Once you present creatively, people remember you, and they will associate particular colors or lines with you.
Tools to Create Corporate Identity Presentation
The branding and identity tools for corporate PowerPoint presentations were developed to assist you in creating a corporate template by yourself. Using these assets, you can quickly and easily mockup all the components of a well-crafted branding presentation PPT. Basic tools include:
Sketch;
Adobe Photoshop;
Adobe Illustrator.
These are essential software and editors with many alternatives, like Figma, Photopea, Pixlr, CorelDraw, etc. You easily add created elements to any PowerPoint or Google Slides.
What Should Be Included in Branding Slides?
If you order a brand presentation with the developed corporate template, ensure it includes the following slides. A professional designer must pay attention to all elements we mention below to create a brand template that works without the designer.
1. Information about the business
It's good to include a backstory of your company and some brand words to summarize the brand's direction.
2. Mood board and direction
This slide reminds the brand identity with specific colors and logos your designer chooses. Where was the original inspiration gathered from? How do selected elements recall the presented brand?
3. Logos and their variations
Design decisions are the most important things to be included when showcasing logos. Why is the logo designed so? As a client, you must understand the choice and see a few variations to use.
4. Typography
A consistent set of fonts should be used across a brand. A professional designer is expected to give font visuals. Thus, you know exactly how these fonts can be used across different company presentations.
5. Color palette
Your brand and presentation design should have a complementary color palette that is distinct to you. Designers should showcase the beautiful colors and why each has been strategically selected for the brand.
6. Brand pattern and elements
The designer has to write about each pattern part, whether it includes shapes, symbols, or lines. Besides, you need to understand why these elements have been specifically designed for your brand.
7. Photography direction
It includes photos and images that fit the brand style and set the tone. It is beneficial to you since it shows the direction you can follow in the future to match the whole design.
8. Social media feed example
It is the bonus slide for organizations that use Facebook, Twitter, etc. You'll need such a look if you target a specific audience, e.g., on Instagram. It'd be helpful to see how implemented branding builds another profile look and recalls with a color palette and logos.
9. Mockups
Mockups are to start selling the brand and create that WOW factor. They give an insight into what the brand could be in a real-life situation.
Afterwords
Brand means much in current-day competition. Unusual fonts and color combinations attract and make you more memorable. People never buy from a stranger, looking for something easily recognizable. They subconsciously start trusting you, seeing how regular you are in simple actions like the same colors in presentations. We've told you how to make the corporate presentation, you give them design consistency, and they become loyal customers!